I've been looking for a while. My biggest problem with the whole thing is the only one I could buy that had everything I wanted was a KTM. Which I rode and loved. But they are higher
maintenance.
But great bikes. I looked at one for 3k but it needed another 1k in maintenance to get it where I wanted it. I do a lot of single track and fire roads. We'll be doing some longish hauls but really no more than 3 hours.
The DRZ's are great bikes, but not enough power. To do what I would want I'd put a big bore kit one etc. The KLR's (Kawasaki) are more on road than off road for single track. The bigger DR's (Suzuki) are great, but most of the ones I looked at were kickstart only. And quite frankly I didn't want to kickstart a 650 all the time. The Honda 650L's are way overpriced.
So basically I couldn't find exactly what I wanted. So while in Abingdon for a couple meetings I had some time between and went to a used motorcycle store. The guy didn't have any but told me of a guy that may etc, etc. The rest of the story involves a piercing shop (yes that's what I said) and a beer to finish. But basically the guy had a non running motorcycle. So we went and looked at it. Turns out it was a 1985 KLR600. Has everything I wanted but a rear disc brake. I can put up with a drum. We haggled. He didn't have a title so I'll have to get that etc. It has a newer top end according to the motorcycle store owner. Electric start was an option for that year and this bike has it, along with the kickstarter. The bike has less than 5000 miles total on the odometer, I have no reason to believe it's not accurate. It's been sitting for 2 years unused. The motor is free and is missing some minor plastics. All available on ebay. The bike will need and entire teardown and rebuild. The suspension needs rebuilt. I'll be putting a 650 shock on the rear with a heavier spring and putting heavier springs in the front forks and changing the oil in the forks. Then I'll go over every bearing, bushing pivot etc. The best part is the price. $200. These older KLR's are better in the dirt than the newer ones. Better geometry. Lighter. Very similar to the KTM, but less power from the factory. I'll change that. I'll get it reliable and working properly then work on the performance aspect. Here it is.
When I first saw it.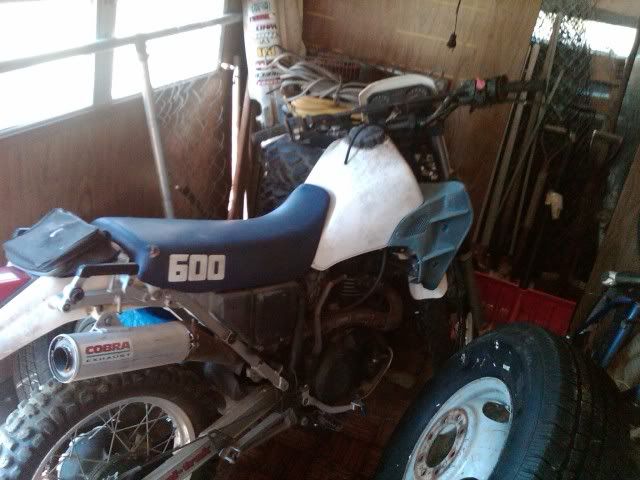 On the trailer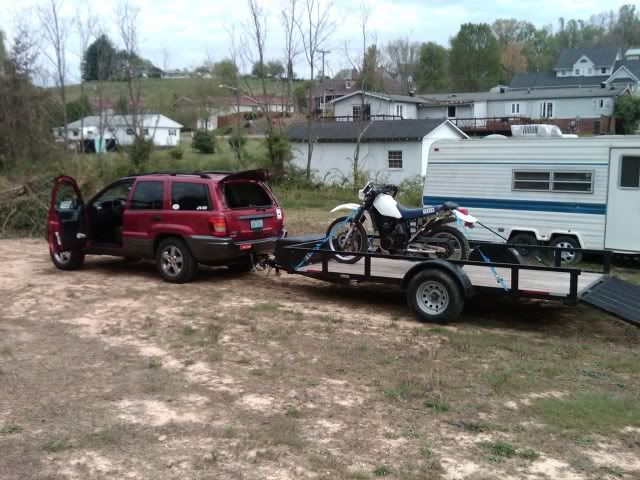 In the garage.