I said that I'd do a thread detailing my restoration so here it is. Not much action on this side of the forum but it will be good to document my restoration. This bike came to me in pretty good condition to begin with. Here is a starting picture.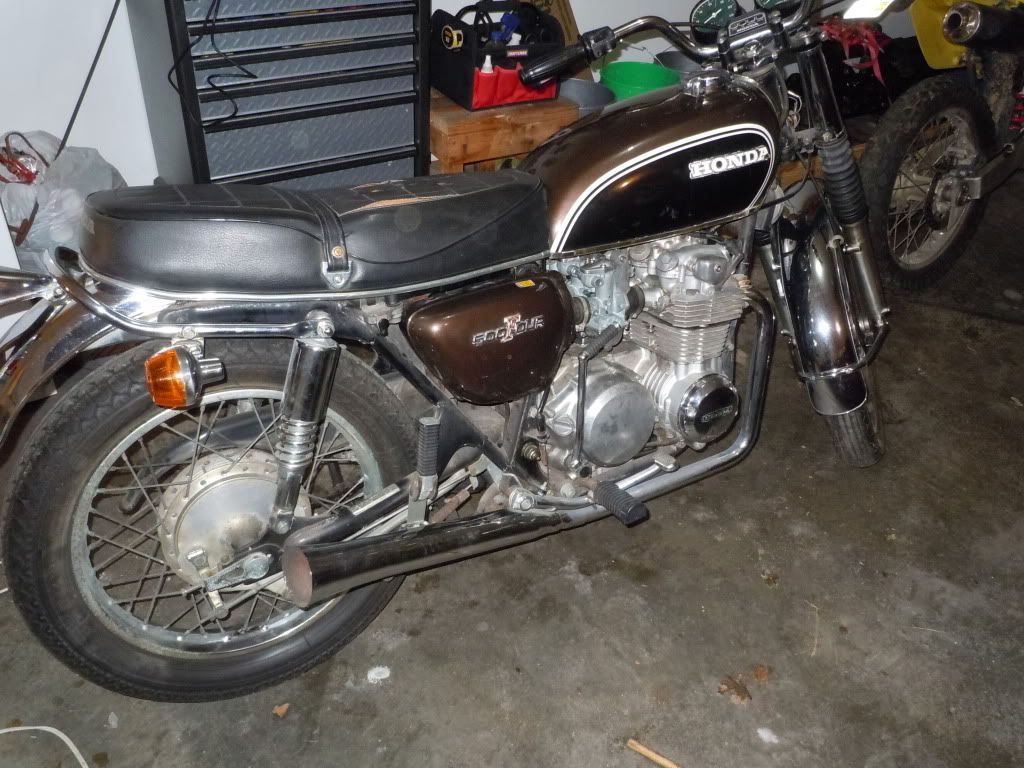 There is not a lot wrong with this bike but there are a few things. Previous owner and friend said that there was an oil leak, didn't start, no head light, rusty gas tank, and frozen master cylinder for the front brake. So far I have found that the oil leak was caused by a dry o ring that was stuck to the case in the oil pump. I'm going to replace it but for now it is sealing after I oiled it up pretty good. Also going to replace the shift seal as it had a lot of grease and dirt packed around it. I got a head light from someone that didn't need theirs for 10 bucks and it works. The gas tank I cleaned out with "The Works" toilet bowl cleaner. The master cylinder is quite frozen so I just let it soak in a vinegar solution to see if it will eat some of the corrosion up.
As for the not starting problem I found that all of the connectors under the seat were very badly corroded, however the ones by the headlight look brand new. Pretty strange so I assume it was stored in a shed and the back end was closet to the door, but if not I haven't got a clue why. I hooked a battery up to see if I could get anything from the lights and the starter. Got absolutely nothing. So that's when I started looking at the connectors and testing with a meter. There was infinity resistance when the leads touched on opposite sides of the connector as illustrated in the following pictures.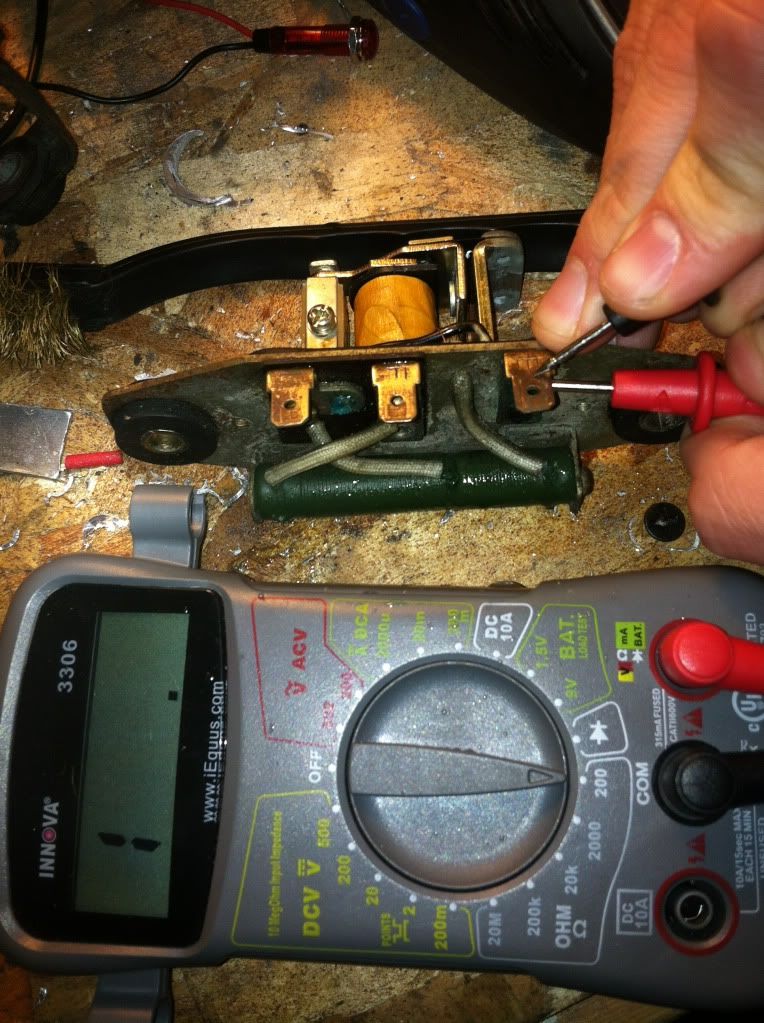 I had started cleaning the leads but paused to show a picture to everyone. Here is a connector that I was talking about. By the way I fried that regulator but I will get to that in a second.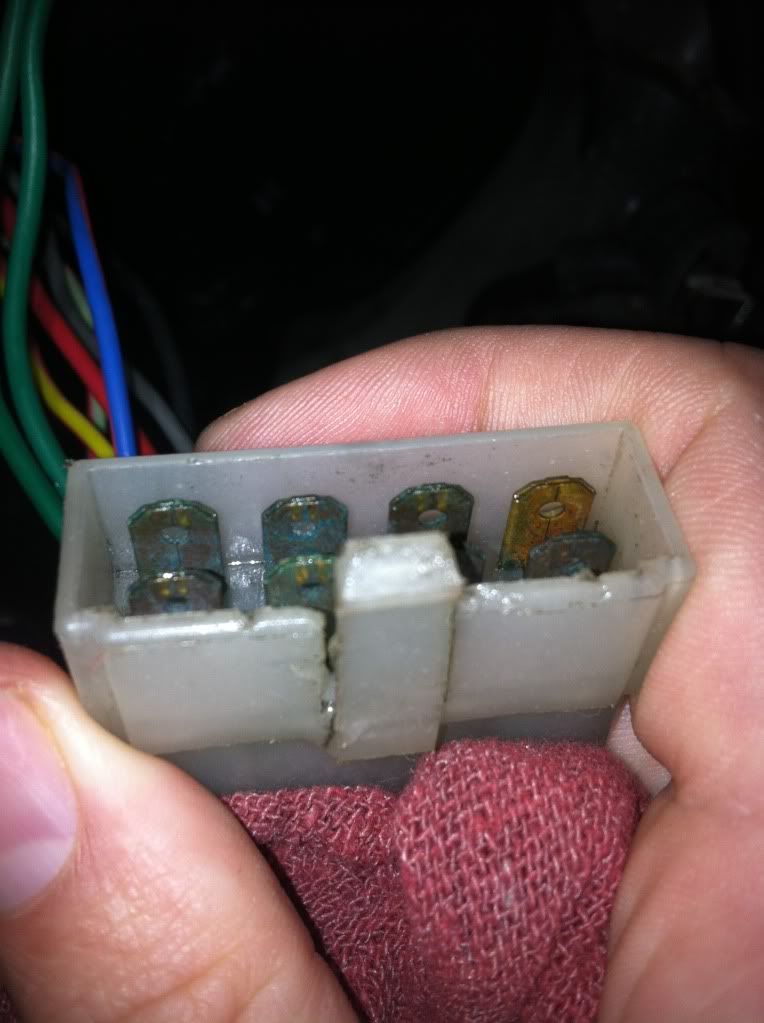 Only got a resistance out of the top right pin. I soaked it in a bag of vinegar and salt over night, brushed it with a nylon brush for about 45 seconds to remove the film, then with a brass brush for about 30 seconds and they look fine now. Not brand new but they have a resistance now.
Also after doing this to all of my connectors I was able to get the lights to come on, though the flasher relay must be burnt out as they didn't flash just stayed constant. I still am getting nothing from the starter motor but that is not the switches fault or the battery. I believe it will need to come out and be cleaned very well. I tried to "jump" it by placing a screw driver across the terminals of the starter switch and still got nothing. That is dangerous but I had to see. I do get spark when I kick it over though so I will make a temporary gas tank this weekend and see what I can do about starting the bike. I am very excited about it. I mentioned the headlight works too, I was surprised that all of my switches are still good. Most people complain that they rust apart on their bikes, mine seem great other than the master cylinder. Oh and I fried the regulator being an idiot. Forgot to disconnect the battery and let the positive lead make contact with the frame and the regulator and it started smoking. Really was kicking myself after that brilliant piece of work. Not only did I fry a probably decent piece of equipment I also could have seriously injured myself with a mistake like that. Good thing I always wear gloves I guess when working with this many amps, only takes 5 mA or .005 A to stop a heart.
So on the agenda for the weekend is try to start the bike, pull the starter motor out, finish up the gas tank if it starts and possibly line it with POR-15. The gas tank is clean of rust but I am not sure if I trust the Phosphoric Acid not to leave little flakes of phosphate in the fuel to clog my jets. Next week I also have a lot going on so might not get everything done that I want, should have an interview for an internship not that it has anything to do with the bike but oh well. I'm happy about it
I'll get started on Friday after class and work and keep everyone posted. Do hope this side of the forum picks up though, these bikes are very cool.