I had been looking for a compression adjuster knob for my 2006 WR450 for a while, but they all seemed to only work for the YZ SS forks. I got to the point where I was designing my own in SolidWorks and was going to CNC them until I found these. They aren't made for the WR either, but with MINIMAL tweaking they fit like a glove. They were $29.99 from SDI which is a great value when compared to similar items from other companies for closer to $80. I ordered them up assuming they would come with the knobs, bolts, drill bit with a stop set at the proper depth, tap, and a locating device so that you drill the hole prefectly in the center of the existing compression bolt. I assumed all this because it was stated in their installation video on their home page.
http://www.suspensio...gi?display=home
(you have to make a account to see most of the stuff on their site which is dumb, but it only takes a minute).
I got the package a few days after ordering and was disappointed to find only the knobs and bolts inside. I called SDI and they told me that they don't include the drill, tap or locating device anymore because it cost them too much and they weren't making any money. I complained saying that it explicitly states on the video on your site they they are included. They took a look at the video real quick and said they would make some changes on their site and would overnight me the parts since it was their mistake (now, when ordering the compression knobs there is a note for a different part number to order if you want the drill, tap and locator).
A few more days go by and I get the second box with the tools I need. Unfortunately, the locator device didn't do me any good as the extruded cylinder meant to set down on top of the recessed compression adjuster bolt is a larger diameter than the bolt its self (for the WR anyways).
Also, the extrusion on the bottom of the knobs meant to fit in the flathead slot of the compression adjuster bolts was too wide (again, meant for a larger diameter bolt), but a quick attack with a dremmel cutoff
wheel
took care of that.
I just drilled the holes free hand which had me a little nervous because if I was off too much I would end up drilling a hole through the side of the bolt and ruin the $100+ fork cap. The drilling and tapping went well thankfully. However, the 8mm drill and tap depth they specify wasn't enough to get the knobs tight as the bolt was bottoming out on the end of the tapped hole instead of on the knob. I added some lock washers (probably a good idea anyways) and that solved the problem.
Now I can adjust my compression in just a few seconds with no tools at trail intersections waiting for the others to catch up.
Drilling out and tapping the stock bolt.
Modifying the SDI knob extrusion to fit into my smaller diameter bolt slot.
Side by side comparison.
Useless locator device.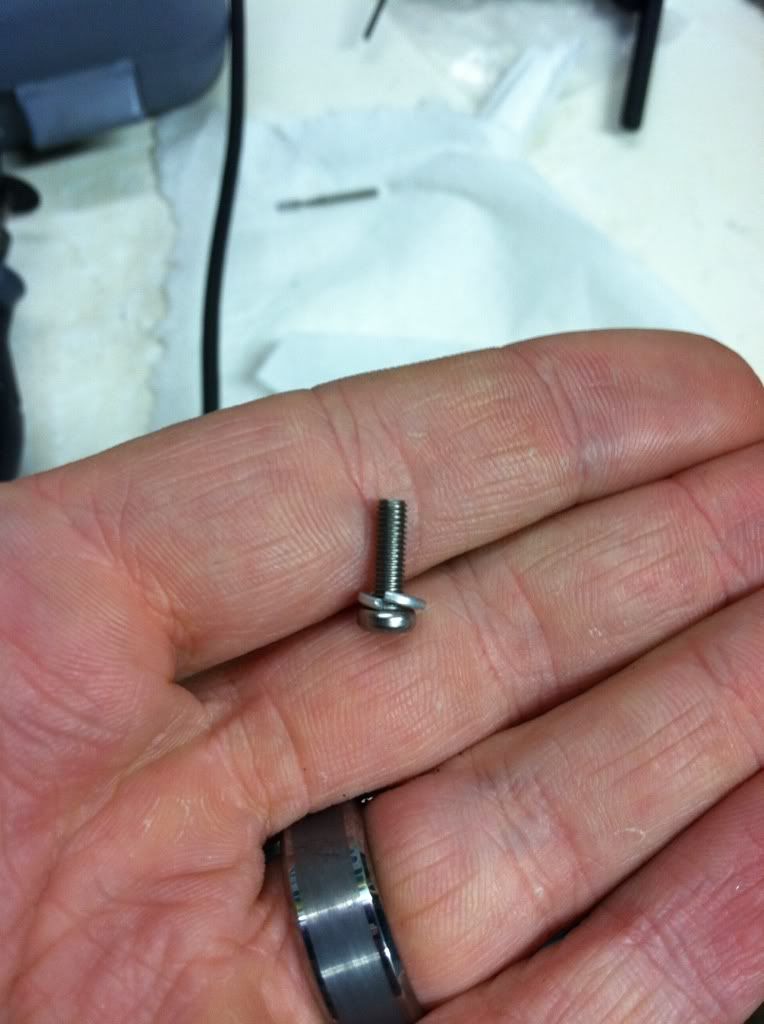 New SDI bolt to thread into tapped stock bolt with my lock washer.
One on!
Compression at softest setting (tallest possible point, hope my bars will still fit). The adjusters add about 5mm of height.
Both on! They are very smooth to click, can't wait to try them this weekend!
Got new bars and clamps in the mail today (Easton 1 38" bars). I'll add some pics and report back once I get them installed.