We made some strides today. The CRF230F front end is off and the XR250 stem is pressed back into the bottom triple. These are some things you need to know if you plan on doing this conversion:
-You have to disconnect the keyed ignition. Take the tank off and unplug the four connections. Then there are two tabs on the underside of the ignition housing that need to be pressed in. The ignition will slide right out of the hole in the CRF triples. I plan on getting a custom bracket made and will show you when it's finished.
-The brake line guide bracket will now be too small for the XR250 triple holes. I'm working on a way to make it work, so stay tuned.
-The brake line clamp on the forks will need nuts since the XR250 clamp is threadless plastic. That's an easy fix.
Here are some pictures of today's work. The next batch of pictures will be the installation of the front end and the finished product. I can say right now, the stock CRF230 forks are like jello compared to the XR250 forks when compressing them side by side.
Also, I got a chance to ride very briefly with the Hlebo shock before loading the bike in the truck today. It feels like a whole new rear end! (That's what she said).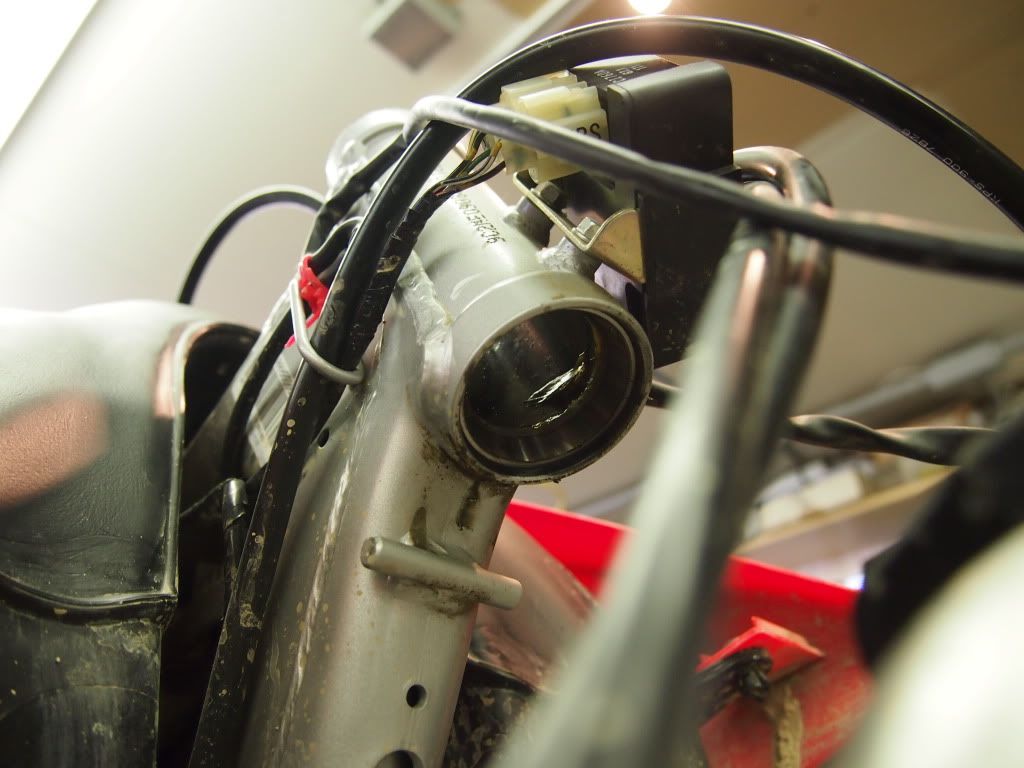 The ignition is pictured below. I'll use the left bolt on the top XR250 triple to hold down a custom bracket for it. Also, look at the brake line clamp at the bottom of the picture--it just needs a pair of nuts for the 8mm screws. In the back you can see an XR250 fork and both CRF230 forks. Big size difference! Those gold washers are going to be drilled to a 1-inch diameter and used to space the XR250 triples onto the CRF230 frame.
Edited by Professor XR, 28 January 2012 - 01:47 PM.