Here are the pics from the dog bone linkage bearing replacement project on my 06 YZ250f
Steps:
1) Remove linkage from the bike using the 19mm socket. I had to use an open ended spanner on the bearing side of the dog bone linkage b/c the chain guide
wheel
didn't allow for me to get my ratcheting spanner around it.
2) Once the part is removed, clean it up. Here is the Harbor Freight blind bearing removal tool for $65.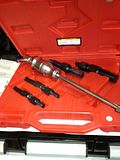 3) Use the second to largest bearing removal tool. Snug it up to the bearing middle inside raised diameter and then work it gently to the edge of the bearing. I taped the tool with electrical tape so that the needle bearings didn't fall into the tool cracks.
4) Here is a pic of the way that I vised the linkage part and then pounded down with the assist of gravity. My bench is light so when I did it up or to the side things kept flying off the table.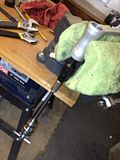 5) The bearing was a little slow to come out at first and I readjusted the tool to better seat after I pulled it out a couple mm. I guess you could heat it up, but I didn't have to do that.
6) Here is the bearing out of the part.
7) I used my Army training and pounded the new part flush with a piece of wood and a dead blow hammer. Then used this combination of washers, sockets, and all-thread to recess it back the final 4mm.