I should add that your #3 photo comes closer to the correct stance position than the others.. However, you can see that your waist can't go much closer to the steering head and if you roll your feet to "Flat with the center of the Earth", your toes will hit the rock...
The following marked up photo was for a rider in the Trials Forum asking for a review of his stance on this climb. Comparing even just the bikes, you can see a BIG difference in foot peg placement. The stick figure shows roughly where he should be but it also shows you how the foot peg placement on the bike allows that to be even possible...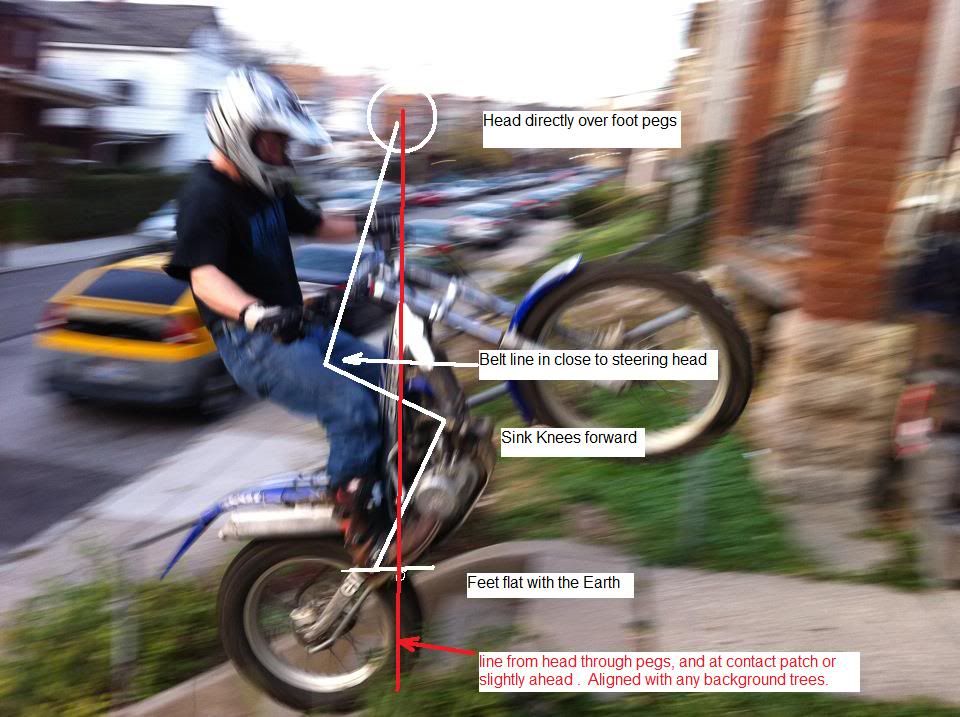 When I mention the old habits? Well, this rider is new to Trials and by his position on the bike, you can see he's standing as if he was still on his old Enduro... It took me a while to learn to spot this but now I see it everywhere... It's what I used to do!
And in jumping logs, if you allow your weight to get behind the center of the bike so that your hands are the only thing preventing you from falling off the rear as in this photo, you'll have a very difficult time unweighting the rear tire when it comes time to float it in the air as in a jump or a Bunny Hop.
In lifting the front tire at the beginning, you do it with knee action... you push your lower body back at the waist with knee action while your head stays up near the bars. Then as you bring that body mass back over the pegs, you pull more UP on the bars and not BACK on the bars for the lift.. This leaves you in the perfect coiled position to finish the jump with your body as you can see the stick figure is prepared to do. And you'll have plenty of room to extend your arms as you push the bars away and down for the finish.. The Stick Man here has arm room for that finish, you can see the rider does not.
Edited by 2PLY, 03 February 2012 - 09:55 AM.