I decided to cave in and get a bigger tank after relentless ribbing from some of my old timer riding buddies (after all it is cheaper to bum gas on the trail then bring your own right?). With the stock 06 YZ450 tank I got an average of 55-60 miles a tank. With the WR petcock I had somewhere around 1/3 tank reserve. I have gone around 15ish miles on reserve with fuel to spare.
I only wanted a bit more capacity than stock so I could get closer to 100 mile range. I didn't want to go over 3 gallons as I HATE the handling penalty and looks of bigger tanks so I decided on a Clarke 2.6 gallon.
I figured the reserve would be a bit smaller due to the design of the tank but boy was I surprised to find that it was only a few ounces! Now I already had plans to increase the reserve to at or near 50%. I have always thought it was sort of stupid in most cases, to have anything less. After many searches I found very little mention of the fact that most desert tanks pretty much negate any usable reserve unless you run dual petcocks (ill get to why I like singles better in a bit) Here is what I did:
First I filled the tank 1/2 way and then measured down from the filler cap to the fuel level so that I could find how much length was needed to add to the reserve pipe (7.5 inches in my case).
Im using a WR steel frame petcock which faces opposite the aluminum frame WR petcock I have been using for years on my stock tank. The added benefit as you can see from the pic is that the tubing is brass instead of plastic, making lengthening much easier.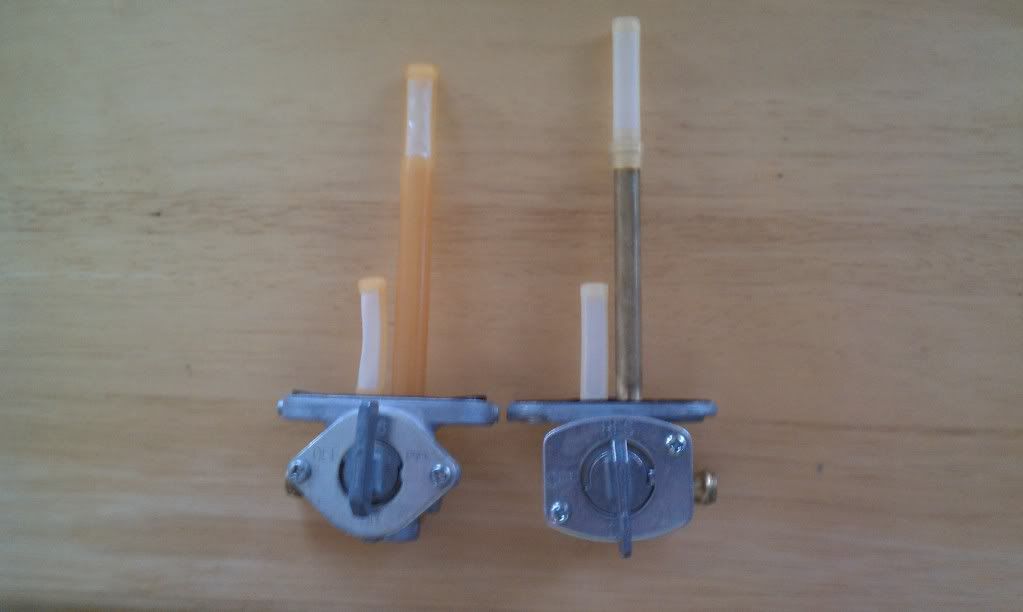 I then took a small pipe cutter and cut the pipe about half way between the screens (to avoid clearance issues with the cutter).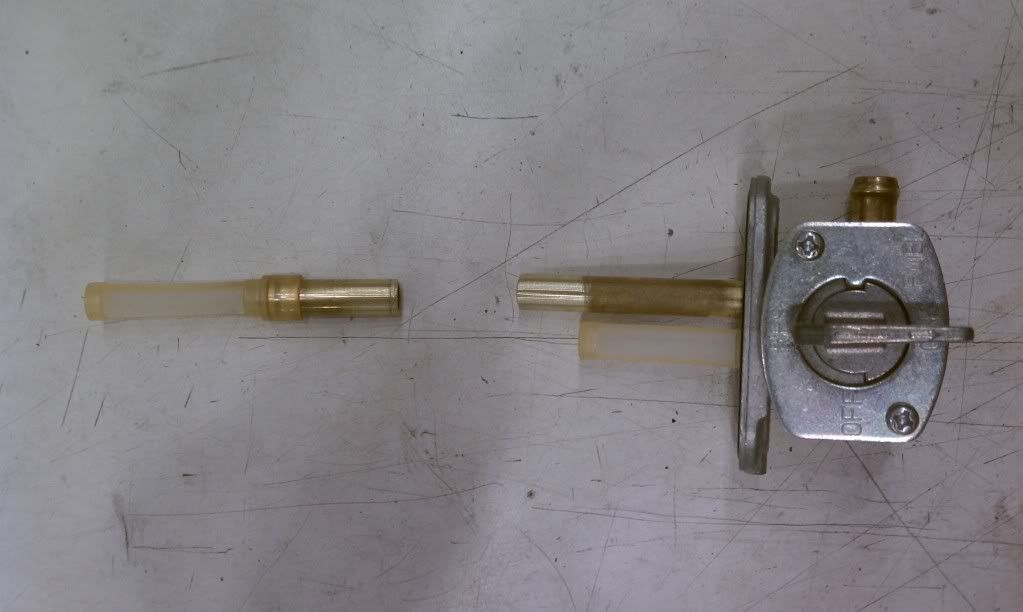 Once I had the 2 pieces separated I simply prepped them like anything you solder (like sweat on plumbing). I just used some 400 ish grit emery and cleaned the mating surfaces after with solvent.
I got a piece of brass pipe from my buddies hobby shop that was just large enough to slide over the petcock tubing (7mm ID). The stock pipe mic'd out at 6.97mm BTW.
It took a bit of elbow grease to get the pieces slid together (the tighter the better) but once soldered, it is super solid.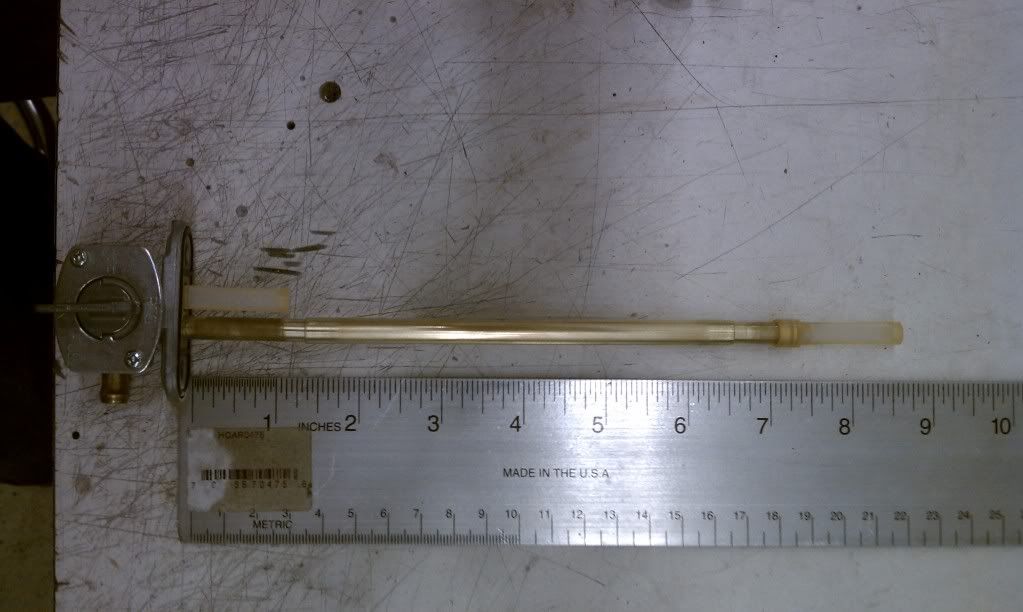 I wound up with 1.3ish gallons before reserve and a good solid 1.1+ gallon reserve, not including the "lean over" second reserve of fuel on the opposite side (where you would run the second petcock in a dual setup). This second reserve was just about 3/4 of a liter. So not an exact 50% but far more usable than a tiny amount that just gives you a warning that you are going to be walking a long way!
Heres whats left in the "other side" that you have to "tip over" to get. Not much but plenty to tell you to get to high ground. Sort of a second reserve that you would not get on a dual valve setup:
These measurements were taken on a stand so obviously in practice the amounts will vary. Since im running tank foam, the amounts will be more "repeatable".
Side by side comparison:
Fuel line routing:
So in closing, I now have a near 50% reserve, a large enough range to cover any loops I have ever ridden, and with tank foam and the low CG of the Clarke, I cant tell the difference in handling from a stock tank. Cake and eat it to?