Update time;
Oil System Upgrade
From my initial readings on this site along with various other online forums, I found out something... its been documented that essentially our motors will only fail for basically two reasons;
A: The connecting rod seizes itself (either the big end or small end), or
B: Piston to valve contact (usually attributed to timing issues within the motor associated with timing chain stretch.)
The oiling in these motors off-road are for lack of a better word... subpar with todays industry standards. Now, if you take the bike out of it's natural environment getting tossed around over jumps and bumps, and street legalize the machine running on smooth concrete/pavement, will only cause the problem to be amplified exponentially. The problem I'm referring to is the fact that the piston connecting rod is only lubricated by splash. Funny part is
Yamaha
's engineers came up with a solution for the motor, but only instituted the modification to 4
wheel
vehicles and failed to carry over the modification to our 2 wheel brethren... why they did that, I'll never know.
To me anything inside a motor that isn't lubricated is only asking for trouble, especially if you're doing sustained higher RPM's. So, my research began to find out how to do the mod. First place I found was;
http://www.jtatv.com...DE_p/ou-100.htm
The object is, you remove the side case and send them the part. They intern perform the required machining and send the case along with some new shinny
Yamaha
parts back to you... at a cost of ~$200 USD + shipping.
Then I started looking at the prices of parts, and figured there must be a cheaper way. So, I found this post on YFZcentral which pretty much did an excellent explanation of completing the modification, found here;
http://www.yfzcentra...er-upgrade.html
Only problem there was I didn't have access to a milling machine, so I set out to do the modification with the tools I had at my disposal. What I ended up using was my Dremel tool (
200 series rotary
), with a High Speed Cutter tip (
model #115
), along with a Multipurpose Cutting Guide attachment (
model #565
). I then set out to slowly and carefully remove the top
3.5mm
of parent material from the case.
Once I was finished, I moved into the drilling stage using a handheld drill using only NEW & SHARP cobalt bits (
so if you've been out drilling concrete/steel/other projects with your existing drills... you might want to invest in some new bits
). I moved incrementally from the existing hole cast into the case up to a final size made from a
21/64"
drill bit
.
I just worked slowly, with a LOT of cutting oil, I cleaned the bore of the hole after each pass with the next size up drill bit. To get the right depth, I started by only drilling as deep as the cast hole in the case without going past, then I would install the nozzle (w/o oring) and take a look to see if it would sit flush with the recessed surface I milled with the Dremel. If there was a gap, I'd re-drill as necessary until it would sit flush.
Next, I moved to the oil feed hole. For that I used a
3/32"
drill bit, and I drilled right in the centre of the bore I just created until I breached the other side into the oil galley.
So the part numbers you'll need to order to complete this mod;
1x
5D3-15155-00-00
Nozzle3 (~$ 20 USD)
1x
93210-05098-00
Oring (~$ 2 USD)
1x
5TG-15462-02-00
Gasket 3 (~$ 17 USD)
1x
5D3-13300-00-00
Oil Pump Assy (~$ 83 USD)
optional part
1x
5TA-13320-00-00
Pump Rotor (~$ 20 USD)
Here's a couple pictures from mine;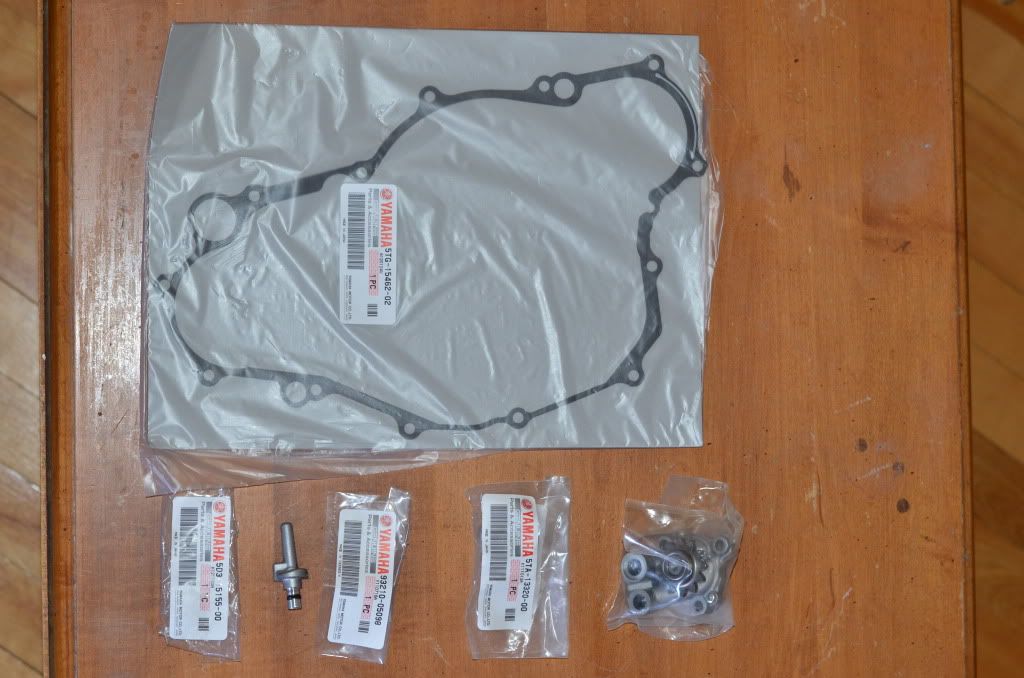 She isn't perfect, but in reality any upgrade to the oil system on these bikes is a improvement, which hopefully might slow or stop a ticking timebomb from ruining your day away from the house.
Edited by rs25, May 03, 2012 - 01:56 PM.