Hey tt ppl. I thought I may as well share my "little" project that I've got going on right now. With the long cold winter finally starting to release it's death grip on northern Alberta, I decided that I really wanted to get back into dirtbiking. So the search began for a fairly new, usually reliable dirtbike with functionning headlight/taillight that wouldn't leave me wishing for larger displacement after a month or two. I scoured the local online classifieds, looked at quite a few bikes but all the owners were asking too much for pre Y2K bikes which almost all were due for a engine overhaul. Then, an add caught my attention for a 2004 WR450f which according to the owner had a bad motor. So I called the owner, and he informed me that the motor was currently disassembled in boxes, and the "crank and piston are missing.".. I started looking at prices for new aftermarket cranks/piston combo's, and I decided that this bike was probably worth it to go take a look. So off I drove the 4hr drive (each way) to go take a look at the bike. When I showed up, the bike was partially disassembled, and as the owner mentioned, yep, the motor was in a box.. lol.. The plastics were cracked and beat up from obvious catwalks gone wrong attempts, but the frame appeared straight, the crankcase halves looked good, so I decided to lowball him a little, he met me in the middle for price so I was happy. So, I brought out my trusty socket/wrench set and finished the disassembly of the bike so I could fit the bike into the back of my Subaru WRX station wagon. Here's what she looked like after making it home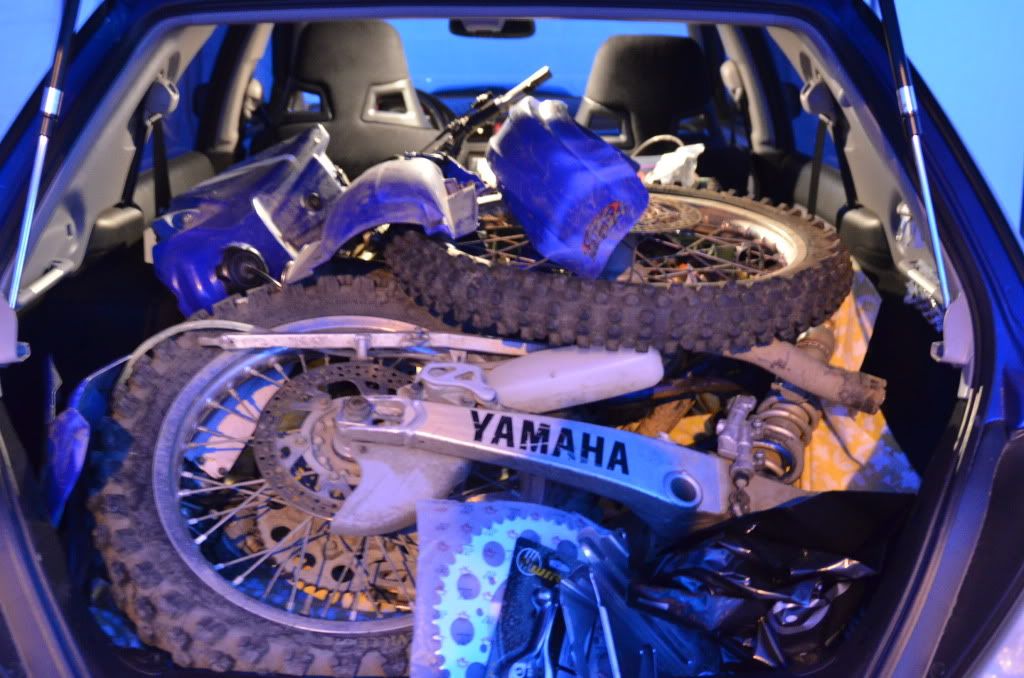 Immediately after getting home, I power washed off the parts, and then carried all the parts into the basement to start the inspection/cleaning/assembly part of the project. Well, with the parts that I had, this is what either A: needed replacement or B: needed attention.
-Motor, well if you were to assemble all the parts that I got, it would look like a engine, except there really wouldn't be anything inside. It was missing every thru shaft, crank, piston, transmission gear, shift linkage, clutch, flywheel.... so.. yeah.. motor is done.. so I found a replacement 2006 WR450 engine in Texas with a spun bearing and it's in the mail now.
-Frame obviously got refinished to rid the rust and check all threaded holes. I had to completely remove both lower anchor nuts for the rear subframe because the threads were gone from the previous owner installing standard course bolts into a metric fine hole..
-Rear suspension linkage and swingarm bushings were 100% dry of grease and seized solid. All bolts/bushings had to be pressed out using a 20t press.. one bolt actually required almost 15,000 psi to break it free.. lol. While the others needed close to 8,000 psi each. So new bushing/bolts had to be ordered. Rear shock was in excellent shape (probably cause the rear links weren't moving) which was good a fairly pleasant surprise.
-Front suspension/Triple.. Upper triple needed replacing because again I found some standard bolts installed for the bar clamps. When I removed the steering head, some ball bearing fell on the floor so new bearing were needed. Fork seals were good, but the dust
boots
needed replacing.
-Controls.. hotstart/clutch perch and levers needed replacing, the only thing holding them together were the rubber boots.. roflmao. Throttle tube was cracked in multiple pieces. Throttle cable was pooched. Bars were bent. Front
brake lever
was broken under the boot (but master cylinder is good).
-Brakes.. front and rear brake pads were well past their expiry date... he must've been running using the backing plates on rotors for quite some time. So, new pads were in order, but surprisingly the rotors were in decent shape. Front and rear calipers/lines were in good shape after some cleaning and they showed no signs of wear.
-Body plastics.. everything was broken. period. But, the seat, tank and airbox were in decent/useable shape.
-Cooling. RH rad was bent and failed a leak check. LH rad was slightly bent, so I got some of our metal bashers to straighten it a little, and to my surprise it passed the leak test.
Coolant
lines also were in good shape, they're starting to get hard, but they're still useable for now until I get leak.
-Drive.. front sproket was missing teeth, rear steel sproket looked like a saw blade, and chain was garbage. Tires were off the bead but holding air. Once I removed the tires to inspect the rims, I found that both front and rear tire beads were done and both rear rim locks were damaged. I also had to true the rear
wheel
, I used a buddies truing rig to remove some lateral runnout which was out of spec.
Sooo.. as you can tell, the bike was a wreck. I found on ebay a rad from a 03 YZF, the motor I found on SMJ, all the plastics are coming from UFO plati, body hardware is coming from cheapcycleparts, and tires/tubes/chain/sprokets/exhaust I picked up while I was in Edmonton.
Here's how she sits right now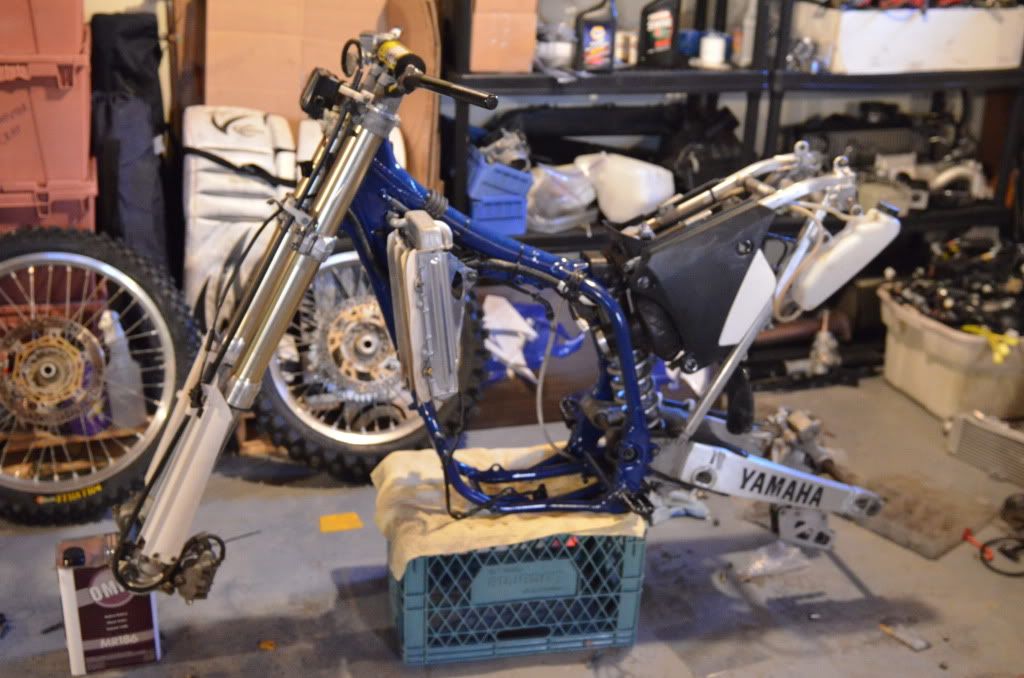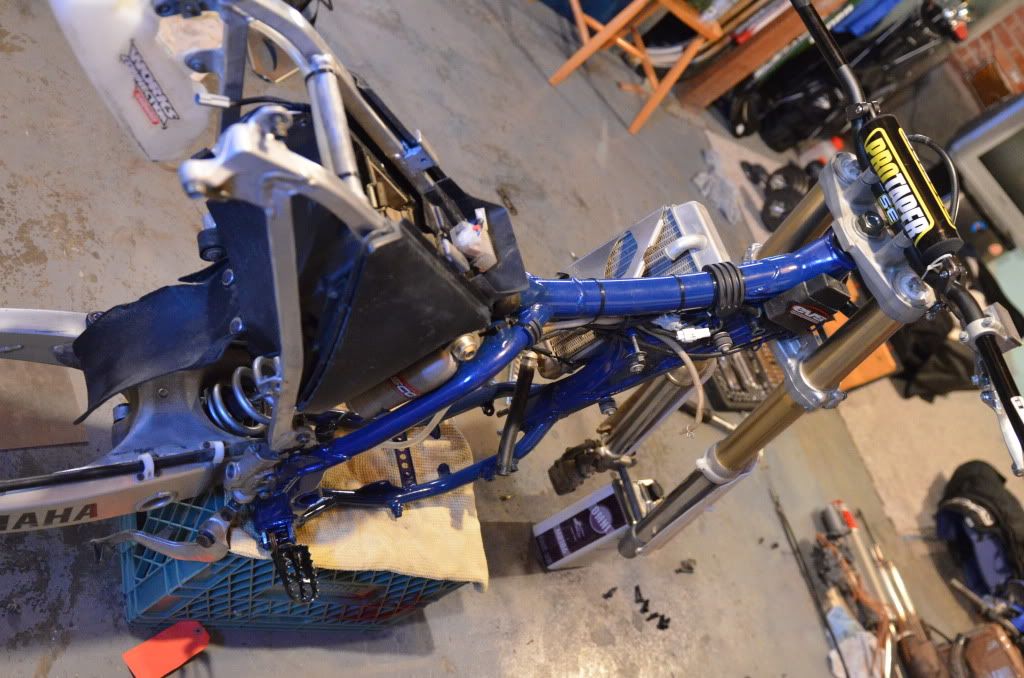 here's some of the parts unuseable parts along with the ever so growing pile of serviceable parts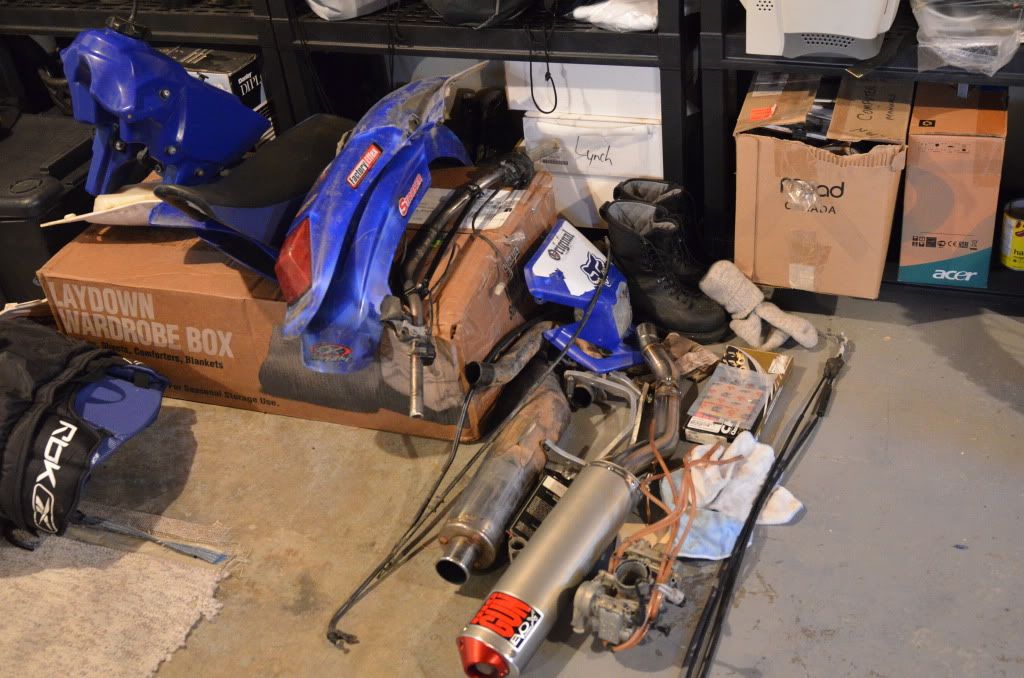 and the motor..