i am having a hell of a time with this. so all i have found is factory fx, fuel designs, and those ebay kits. i like the evo 7 graphics, but cannot for the life of me find any pictures with them mounted up on a wr of my style. i want to put a yz rear fender, and either a '07-'11 wr front or '10-'11 yz front. i am assuming i can order graphics kits for the '03-'05 yz450 if i find some and they will fit? are the side panels the same too? so if i get an entire bike kit for a yz, i would want to know the side panels and such are the same or am i going to have to mismatch stuff?
i really dig the look of the side panel backgrounds on this bike. anyone know who makes them?
next i would like to clean up the look of the fork guards regarding the odo cable. can i get 2006 wr fork guards to be able to rerout the odo cable inside the fork like the '06 does with the digital speedo it has?
this
vs. this
and the wheels and hubs on this bike. how do i achieve this look and what does it cost assuming i can get them coated? and who makes these backgrounds?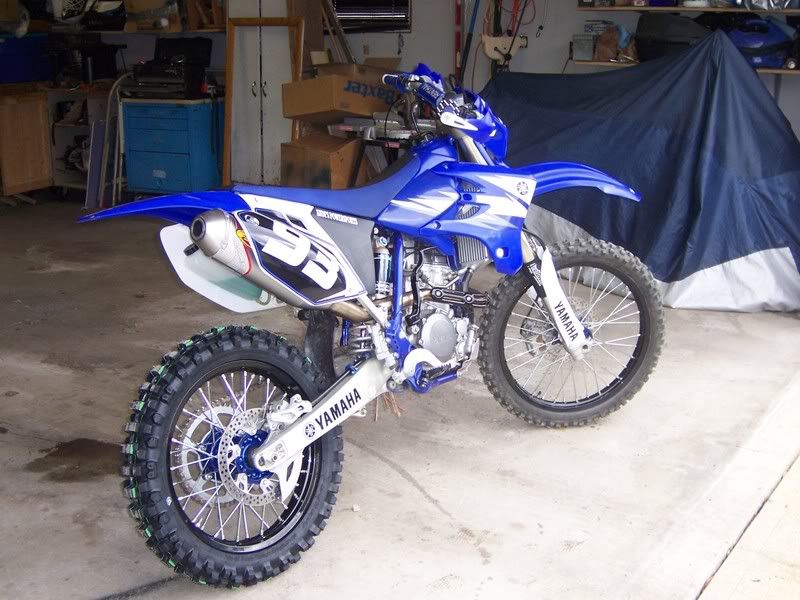 sorry for the newbness. my interweb google skills elude me. first yami and i am learning.