I've always loved the Honda XR's and even before I could drive a car I wanted one. Fast forward about 10 years later, I'm done with college, I landed a good job, and now is the time for more toys. I bought a super nice, low mile (2,8XX miles), one owner, meticulously maintained XR250L for a really great price. But enough of the background info, here's the plan. I love bikes, dirt, street, and now supermotos after reading about them online and seeing what they can do. I love things that are "different" too. I wanted to build a XR250L into a supermoto bike without paying more than I paid for the entire bike itself. After a lot of research and reading here through the forums I signed up and am going to describe how I'll be going about this.
I love a clean look. I also love the color white on bikes, cars, and trucks. I am going to do the bike up in black and white with a silver frame and black rims with polished stainless spokes. I decided on doing a MX style rear fender with a LED taillight and turnsignals that will mount under it, and a supermoto front fender. I got a really cool seat cover and matching tank graphic off ebay that is made with 3M stuff, no cheap junk. I did a lot of searching online and I now have all my aftermarket mods and ALMOST every other part I need, so reassembly will begin soon.
As the performance goes, the XR250L is tuned down compared to the XR250L for emissions as you guys know. The guy I bought it from did everything to change the performance of this bike. He put on the larger XR250R header and pipe, a
Mikuni
flat slide carb on it, the
Wiseco
280 Big Bore kit, K&N air filter, stiffer fork springs, and a stiffer rear spring. I only rode it once before I started the tear down and I was very pleased with the performance.
I've spent a lot of time on here and Supermotojunkie and I just wanted to thank everyone for posting all this useful information. I wouldn't have been able to even think about beginning this project without you guys. I think this is going to be a fun little bike that's also extremely nimble, and extremely durable. Plus it'll be very unique and it'll be a blast to ride to bike nights and still be able to carve up the canyons. The guy before me (original 1st owner) did a lot of stuff to this bike and was extremely meticulous about keeping the paperwork and
maintenance
up on the bike, so that saved me a lot of money and headaches. This is the list of mods, some which were on before, but most of the others I'll be installing.
-Wiseco 280 big bore kit
-Ported and polished head
-Mikuni flat slide carb
-Progressive brand performance springs all around and heavier weight fork oil
-Cobra exhaust (this may change)
-Big tube Thumper Racing header
-K&N filter with the "XR airbox mod" and snorkel removed
-Emission components all removed
-XR600 intake boot
-Maier rear MX style fender
-Tusk LED taillight/underfender
-LED turn signals
-Summers Racing aluminum fork brace
-EBC 320mm front full floating rotor
-Galfer braided stainless steel brake lines, front and rear
-RK 520 gold XW ring chain
-Sidewinder sprockets
-17"
Excel
supermoto rims with stainless steel Buchanan spokes all around
-140/70/17 and 120/70/17 Avon Roadrider tires
-Renthal aluminum handlebars with
Renthal
grips and
Acerbis
hand guards
Here's a pic before the tear down: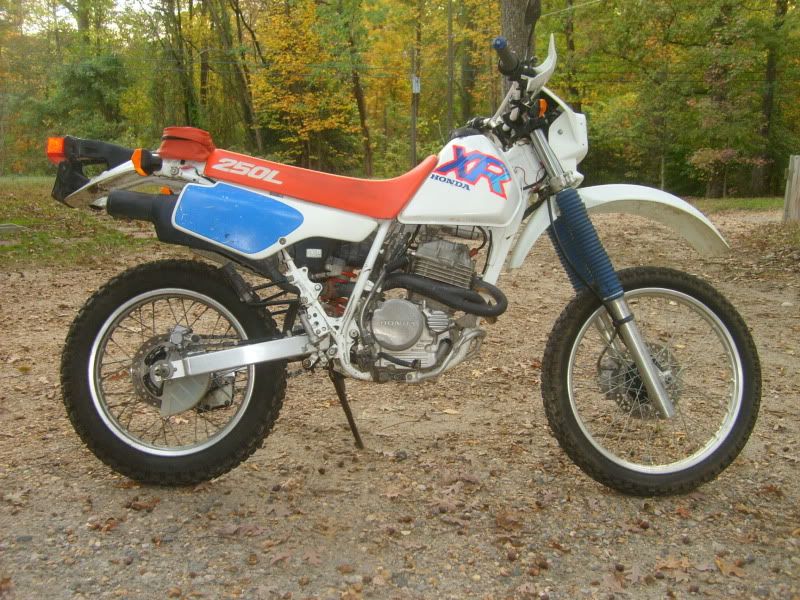 And then the progress I've been making: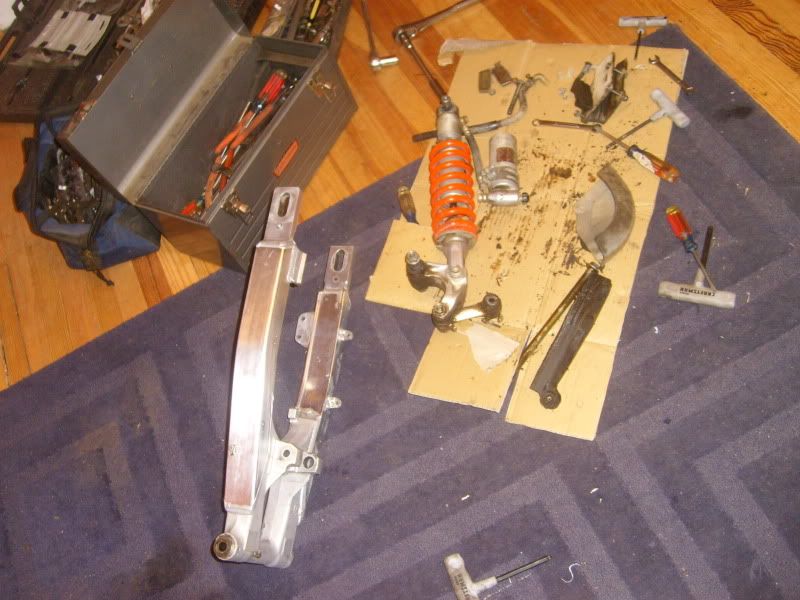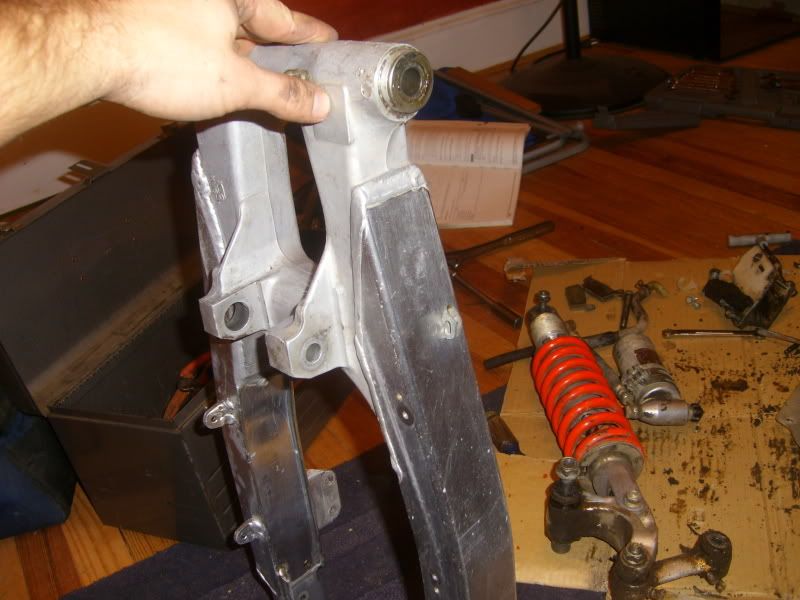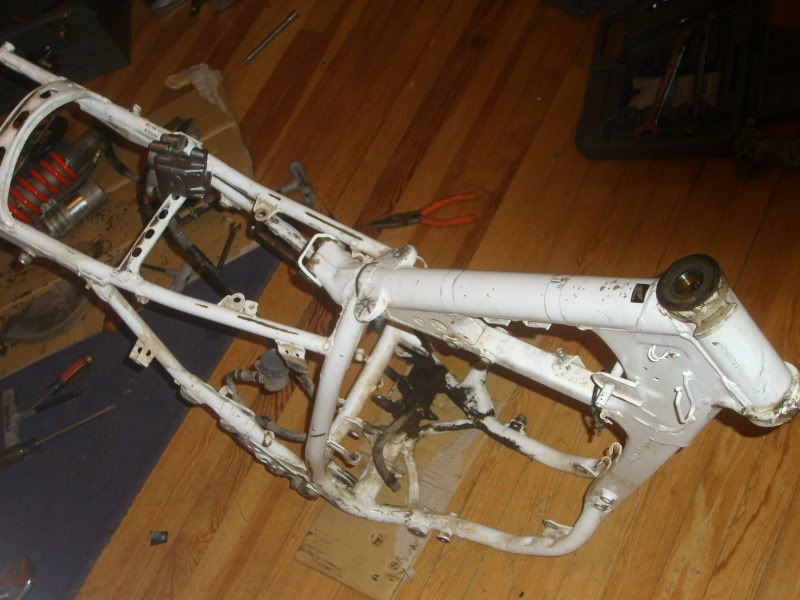 Then fast forward to this week.....the frame sandblasted and getting dropped off at the powdercoaters to have it done in argent silver metallic.