Since it doesn't look like the posts from the new version are coming back, I'll repost this rebuild.
I bought this '04 KX 65 for $300 a couple of months ago. The person was originally asking $500, but after I saw he split the cases with a couple of screwdrivers, I got him to take off a few hundred since I'd have to find some new cases.
The previous owner did a great job of keeping all the parts to the engine in the two buckets, I was very impressed that nothing was missing. With the exception of a small tear in the seat and the front tire, the rest of the bike was in great shape.
The first step was to tear it all down, with the exception of the swingarm, tires and a few other pieces, most of the bike is on this cart.
I got this complete bottom end from eBay.
This engine lived a hard little life.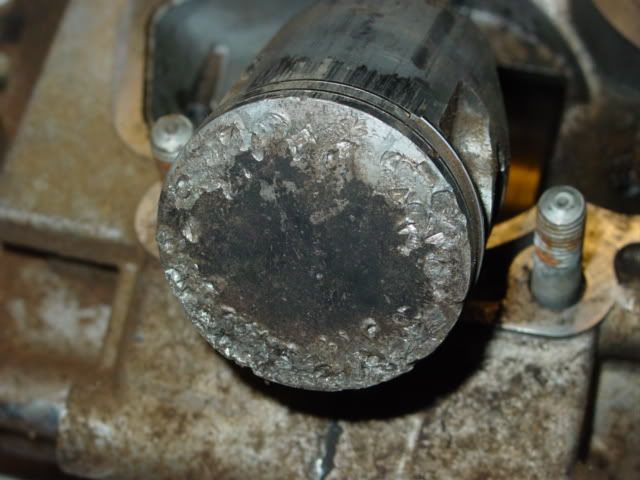 Splitting the cases.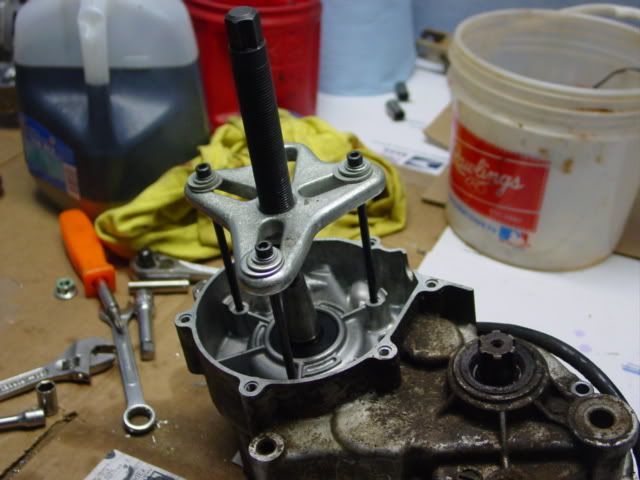 After splitting the cases, the parts of the two engines are on the workbench and I've got the good cases cleaned up.
I replaced all the transmission and
water pump
bearings. I used the oven/freezer method to get all the bearings in place and to install the crank in one of the cases.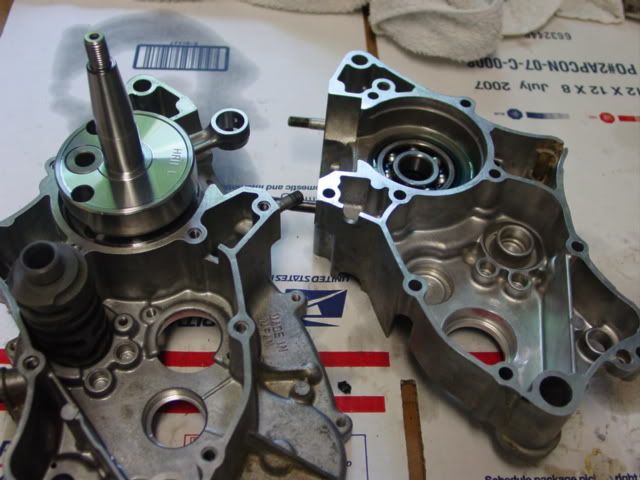 Transmission installed.
I used my
home made
crank installer to get the other case put on.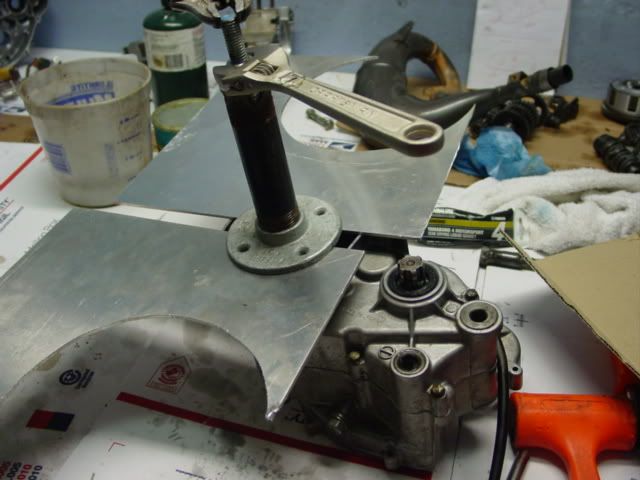 Bottom end put back together.
Top end back on.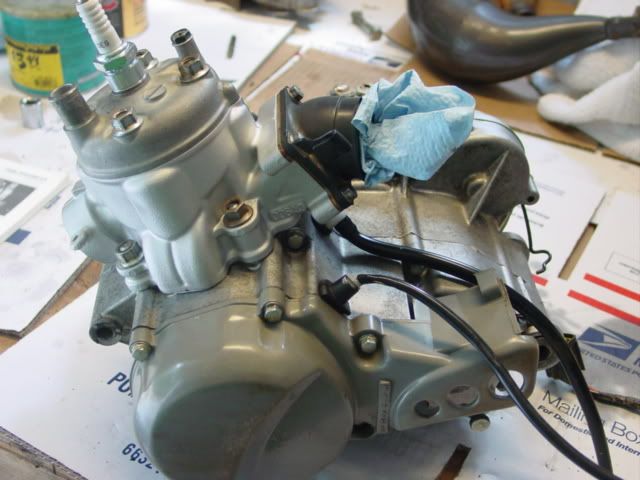 While I let the case sealant set-up overnight, I cleaned all the suspension and steering bearings and got most of the bike put back together. Fortunately the prior owner(s) had cleaned/greased those bearings before and they were all in good shape.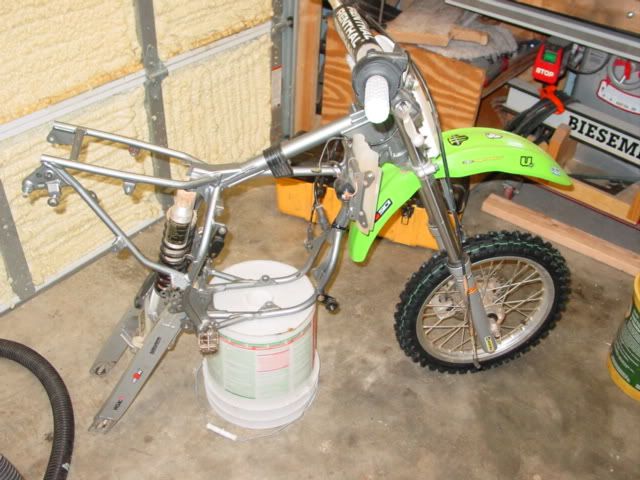 I also had some paint stripper that I had been meaning to throw out. I thought I'd try using that to clean out the pipe.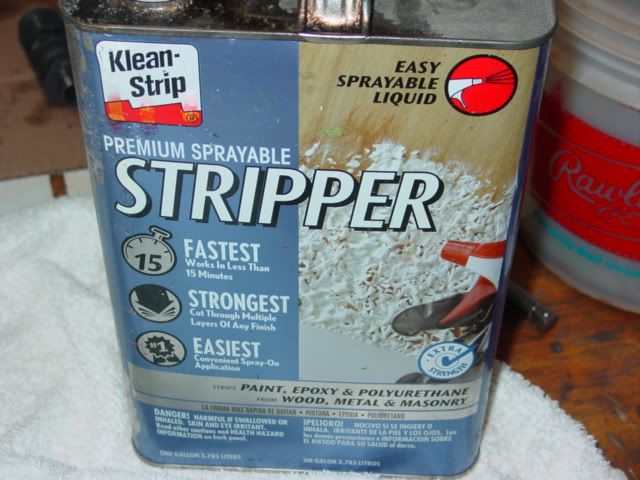 I sealed up one end of the pipe and poured the stuff in and let it sit for about 8 hours. This is the type of stuff that came out from just pouring the stripper out of the pipe.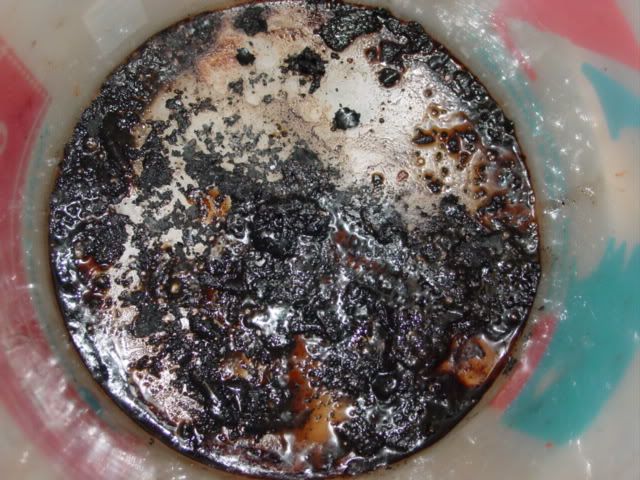 I then started flushing the pipe out with water and this amount of carbon still kept coming out after 8-10 rinses.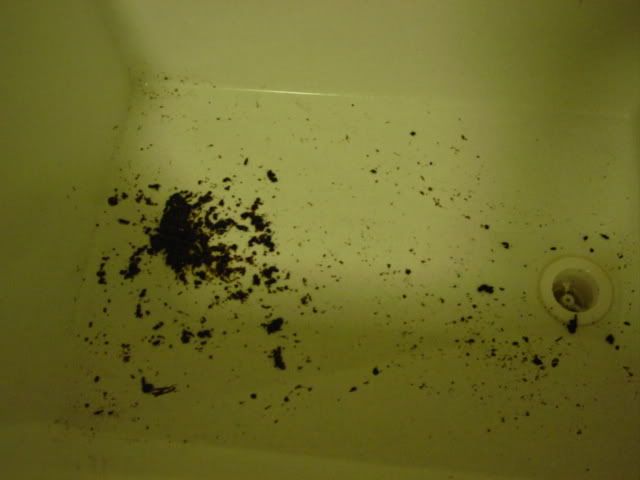 The pipe isn't spotless, but it is pretty clean for a minimal amount of effort.
I installed a new front tire, grips, no-toil filter, chain, sprockets and front number plate. Here it is all put back together.
Took 3 kicks to get it going. My son doesn't race, only rides trails and on MX tracks. I really need to find a kickstand for this thing.