The stock foot pegs on our Yamahas are pretty decent, but there have been design changes over the years, so swapping pegs to suit your needs is pretty common.
The three basic foot peg numbers are;
5ET-27411-00-00 and 5ET-27421-00-00
5XE-27411-00-00 and 5XE-27421-00-00
5XC-27411-M1-00 and 5XC-27421-M1-00
5UM-27411-00-00 and 5UM-27421-00-00 (2007 WR-only)
17D -27411-00-00 and 17D -27421-00-00
The years they were used break down like this;
1997-2001 5ET- All except YZ80 & WR250. WR400 in 1998.
2002-2003 5ET- ALL
2004-2007 5XE- All except YZ85 & WR which still used 5ET-.
2008-2009 5XC- 4-strokes, 5XE- 2-strokes, 5ET- YZ85.
2010 17D- 250F, 5XC- 450, 5XE- 2-strokes, 5ET- YZ85.
ANY
Yamaha
foot peg from 1997-on will fit ANY full-sized 2-stroke or 4-stroke YZ and WR. This goes for aftermarket pegs, too.
I'm sure there may be some anomalies, but so far this is what I have found.
Feel free to add any additional information you may have.
The differences in the pegs;
5ET- Mild steel, 43mm (almost 1 ¾") wide, 83mm (3 ¼") long, 185 grams.
A decent peg, sturdy, but can be bent by passing rocks, etc. The good news is that they can usually be bent back.
5XE- Titanium, 45mm (1 ¾") wide, 83mm (3 ¼") long, 120 grams.
A good peg, lightweight, but some of the early ones have been known to break.
5XC- Stainless steel, 55mm (around 2 ¼") wide, 83mm (3 ¼") long, 5mm (around ¼") lower than the other pegs, 225 grams.
A beefy, wide peg. Rivals many high-end aftermarket foot pegs.
17D- Same as 5XC, but 5mm taller. (Same height as 5ET- and 5XE-.)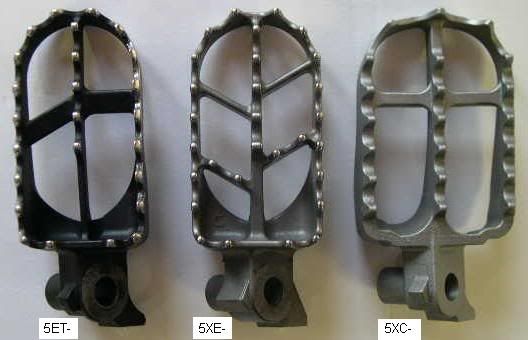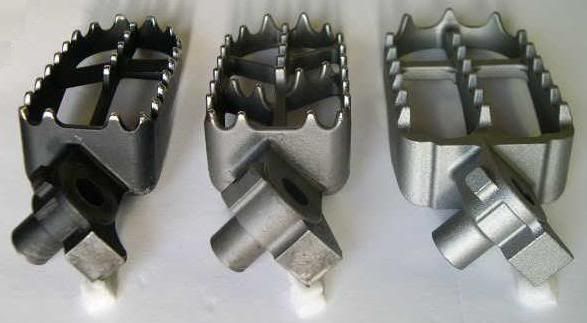 Also some info on lowering foot pegs:
http://www.thumperta...ad.php?t=509603
http://www.thumperta...3534&highlight=