Thought I would do this complete build on here in hopes it may answer some fo the stuff a lot of guys want to do with a WR. This is my first WR or XC style bike. I have always ran R (race) bikes. I wanted this bike to be as close as possible to the feel of an R but also be dual sportable. Only reason I bought the WR or I would have gotten an R.
I am hoping to loose 12 to 17 pounds with this build.
I want to make this bike a full trail/race bike. In trail and race form I will be running it minus all the lights, blinkers, kick stand and stuff that makes it a dual sport. Only when I actually do dual sport rides, will I install every thing back on. The idea is to make the swap quick and easy so that is what I will be keeping in mind as I redesign some stuff.
I will be relocating some stuff. Computer, speedo cable, speedo cable drive flange and lower fork protector will be repaced by better, lighter, more option, cleaner installed
Trail Tech Vapor
unit, 06 to 07 YZF right lower fork leg protector and Flatland Billet Flange for the void in the stock speedo flange drive. I will relocate on/off switch. I will also be relocating transmision breather and radiator over flow hose. Possibly changing my over flow bottle in the rear into extra storage for gas.
I will take pics and try to give good details on some of the things I think people would be interested in doing. I found that not alot of info is readily available out there for the WR when it comes to swapping some things out. I come from
Honda
's and there is more info then you will ever want on a Honda. Does not seem to be the same on the WR's.
Parts List:
2009
Yamaha
WR450F
MB1 Suspension resprung and set up for Enduro/Cross Country
Dr.D Full
Exhaust
SS/Alum
Galfer Over Size 270 Front Brake
Galfer Front and Rear Brake Steal Braided Lines
ProTaper Bars - Evo - Factory Suz, Kaw, KTM Bend
GPR Triple Clamps (1 off 22mm offset upper and lowers)
GPR v4 StablizerCycra Vented Front Fender
Nutech Tubeliss Tires Front and Rear
Ebatt
Cycra Vented Number Plate
Cycra Probend CRM's
AIS Kit
Driven Rear Sproket
Trail Tech Computer
Flatland Racing (speedo spacer)
Ride Engineering Axle Blocks
Ride Engineering Rear Brake Cover
Ride Engineering Banjo Bolts
Ride Engineering Timing Plugs
Ride Engineering Front Brake Pintch Clamp
Ride Engineering Rear Brake Clevis
Ride Engineering Front Brake Cover
R&D Racing Fuel Flex fuel screw
R&D Racing Power Pump 2 w
leak jet
adjustment
Sunline v1 MDX Clutch and Hotstart
Sunline v1 MDX Front
Brake Lever
Boysen Hi-Flow
Water Pump
EK Chains 520 SRX (x-ring and best chain on the market)
Lightspeed 1 piece
Skid Plate
Lightspeed Rear Disc Cover
Lightspeed Rear Caliper Guard
ASI Red Radiator Hoses
Stomp Seat Gripper Cover
Stomp Grip Pad on Shrouds, Airbox, Rear Plates
Renthal Grips Dual Compounds
Dual Sport Stuff:
Royco Dual Sport Kit
Zeta Bark Buster Shields with Smoke LED Blinkers build in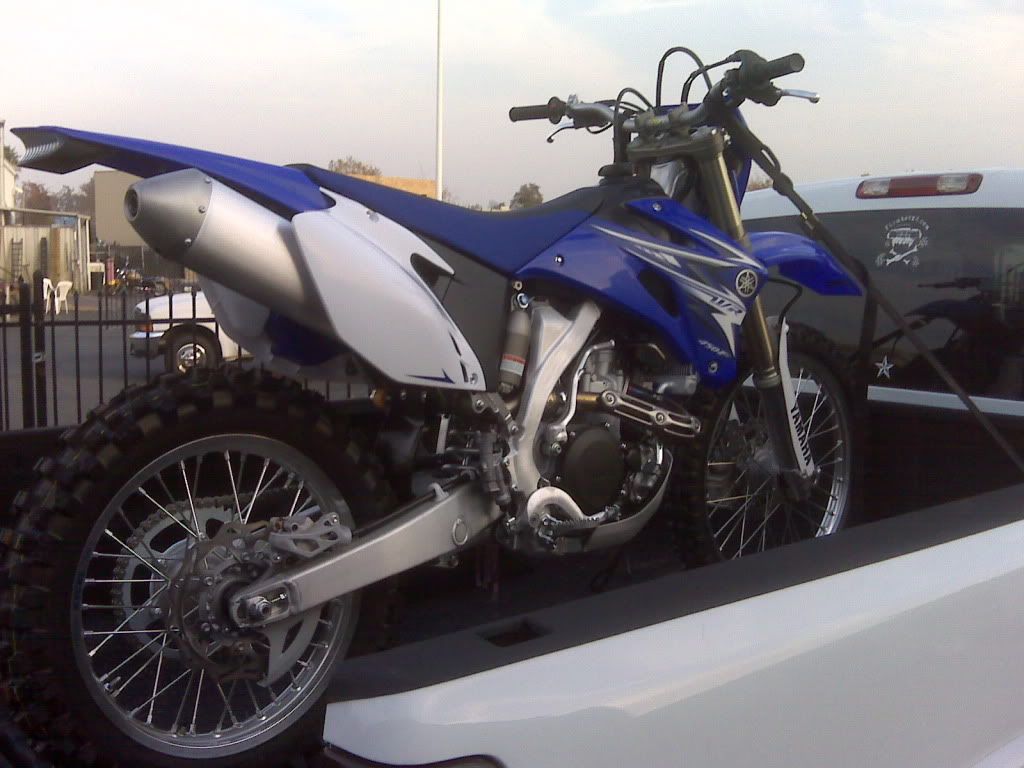 Bought new 2 weeks ago. Then sent out suspension to Mike at MB1 and started ordering my parts.
Never even start the slug as I didn't want to be disappointed! Rolled it in my garage and this is what it looked like 30 mins later.
Write up and pics to follow. I will get a bunch of it built over this weekend.
Edited by RidenRed, December 22, 2009 - 12:49 PM.