I finally got around to installing the
Scorpion
Racing
radiator guards
that have been sitting on my workbench for a couple weeks and I must say that I am very impressed.
Every once in awhile you buy something that is even better than you hoped for and these fall into that category. I have used a couple other brands of radiator guards and they were always a PITA to install and required louver cutting or shroud trimming and even removal of the stock YZ braces that are on the newer models.
The Scorpions are burly. They are machined perfectly. Extra effort was put into the design so that they can be used with the stock braces in place, with the existing louvers (without modfication), and without having to trim the shrouds. They can be installed easily without having to remove the radiator hoses, and they look great.
To top it all off they have great customer service...The owner (Steve) is a rider and hand delivered them to me at a race.
There are FIVE cross braces, three in back and two in front, and they are much beefier than the big-name manufacturers. The sides are machined out of billet aluminum. Very nicely I might add.
Here you can see the inner plate machined so that you can use them with the stock braces.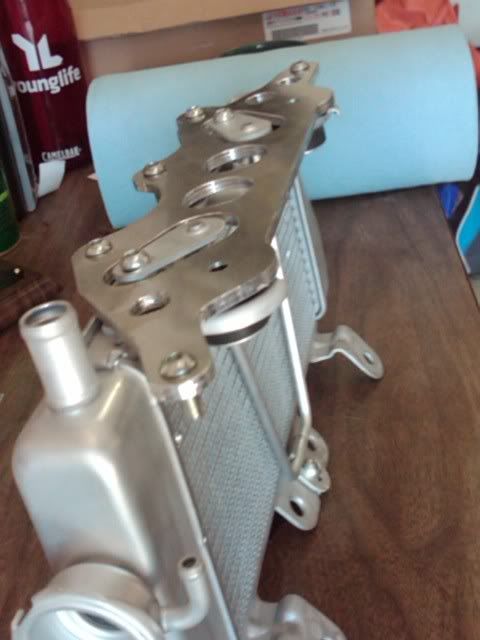 Here you can see the stout cross braces and the recessed cross brace screws on the outboard sideplate. The lower louver is screwed ONLY to the radiator lower tab, and the lower shroud bolt screws into the the Scorpion's own tab so you do not have to try to make all three line up
Shroud installation was a breeze with out pushing/pulling/tweeking.
I give this product a 10/10!