After seing a lot of timing chain questions and having the piston hit the valves on my own bike. I decided to try and come up with a way to check the timing chain for stretch.
What I came up with is this.
While having the cam cover off during valve clearance checks or other reasons.
1. Remove the bolt from the end of the tensioner.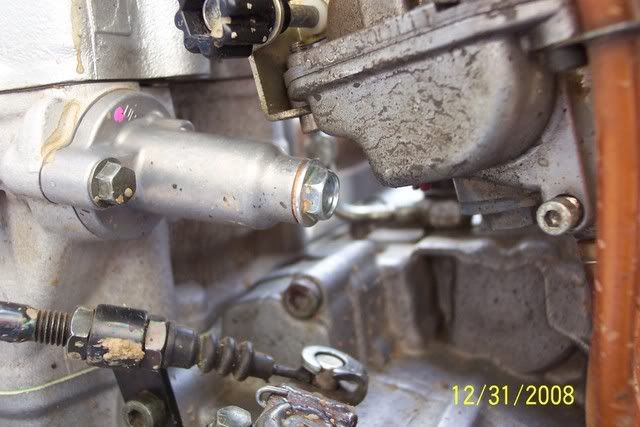 2. Put tension on the chain between the gears like below.
3. While keeping tension on the chain as above, use a small screwdriver and turn(releasing) the tensioner screw (clockwise) and count the turns it takes to fully release the tensioner. Do not release tension on the cam chain with your finger as doing so will allow the chain slack to fall to the crank gear and allow the chain to possibly skip a link and be out of time. holding pressure on the chain as above will keep the chain tight to the sprockets and not skip.
Your chain/sprockets should look like this when the tensioner is fully retracted.
5. Count the number of turns it takes to fully retract the tensioner. My 01 426 was just over 4 full turns to fully retract. if you count anything close to 4 turns your chain is stretched and should be replaced. After replacing the chain and rechecking with this procedure it was at approx 2 turns.
6. Be sure to release the tensioner by roatating the screw counterclockwise a small amount about 1/4 turn before releasing tension on the chain with your finger,remove your finger slowly to allow the tensioner to re engage the guide.
7. With a new chain installed or checking your old one,(with the tensioner in its normal position) lay a feeler guage across the head surface between the cams and apply pressure, you should have to put a decent amout of pressure on the chain to make it contact the chain like this.
This is a procedure I came up with to hopefully help avoid cam chain failure and top end damage, Hope this helps others. It works for me so far.