yeah, put up a how to on the catch can with pics. I have seen them done with turkey basters but never an rubbing alcohol bottle.
This probably should be in some other thread (sorry I'm a newbie here so not sure on protocol:smirk: ). I read about this somewhere here (can't find link now), but I don't recall a picture so I'll post my version. Have used this setup on other bikes in past, just installed on yz426 this winter and haven't tested in hot weather yet ( I hope it holds enough volume for the overflow from the yz426). If you ride tight/slow singletrack it prevents spilling
coolant
if it overheats. Vent hose out the top side is important otherwise you risk hot coolant exploding near your face. When the bike cools, coolant gets sucked back into radiator. I don't keep any coolant in the catch bottle otherwise. Rubbing alcohol bottle fits snug behind number plate without any fasteners.
Stock radiator overflow hose is used, but I cut the very tip at an angle so it doesn't get pressed shut at the bottom of the bottle. Gasket for cap made with piece of rubber cut in circle (can find in plumbing section of home depot to make rubber gaskets or use old tube etc.). I drilled hole in cap just smaller than the tube to force it through and get a good seal. Poked a hole in upper side of bottle and pushed a piece of tubing through there to provide an overflow vent so the bottle will not explode from pressure.
top view. I let the tube stick out alittle so I will see when coolant is flowing and I'm overheating: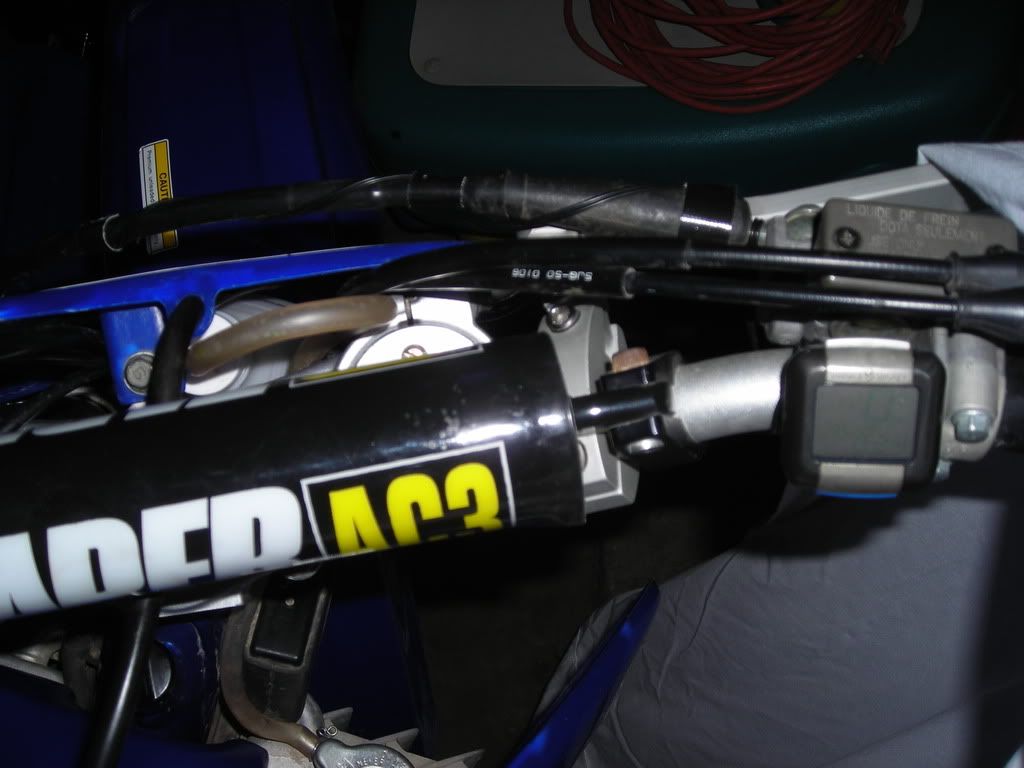 thats where she goes, just slap the numberplate on and it holds it in place. notice vent tube in upper left of bottle:
vent tube exiting behind plate by left fork leg:
cap and gasket: