NOT THOSE BALLS SILLY!!!
Just a reminder for those that have a 2006 YZ450F and haven't upgraded the shift arm to the 2007 verion. I've been tearing through the top end and decided to pull the clutch and check things out. I remember reading, back when I first got the bike, about potential problems with the shift arm as documented here in the stickeys:
'06 YZ450F: Hard Shifting, Inaccurate Shifting, Jumps Out of Gear
http://www.thumperta...391#post4922391
Well, when I got the clutch pulled here is what I found
These are all the parts I could find in the oil sump. All the balls seem to be gone (but I do think I saw at least one of them attached to my magnetic drainplug last oil change) and I am hopeful that the rest have cycled through during oil changes.
Here is what the 2007 version looks like - I certianly don't think I'll have problems with my balls anymore!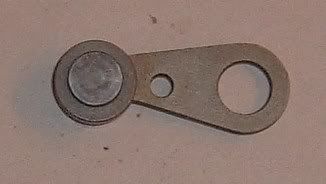 So everyone do check this . . the BALLS you save may be YOUR own!!!!