Hi All,
Just got myself a 2006 WR450 - I really like this bike.
Have been reading this group and you guys have a lot of good info up here, thanks!
Anyways, the guy I got the bike off had all the registration paraphenalia (indicators, horn etc) taken off. The rules here dictate that I have to have it rego checked to be able to transfer ownership into my name so I'm trying to get it all back together and working. I have downloaded the
manual
that the FAQ points to (thanks again!) but it does not have anything in the wiring diagram for indicators or this switch assembly.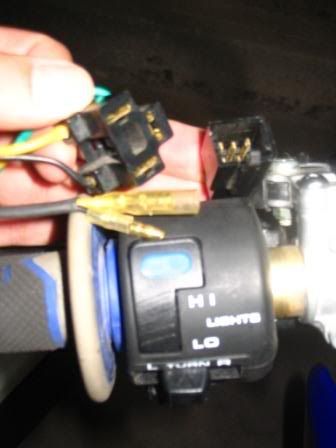 For the most part I can see what needs to go where, but I don't know what is 'missing' from the connector I am holding in the photo. This is coming from the indicator, horn, high/low beam assembly (also in picture) and has Yellow, Green and Black wires. The plug has the same footprint as the Flasher unit that is installed elsewhere (which I am assuming it is in the right place, but could be wrong).
Anyone know what should go here? Is it some relay or such for high/low beam select?
Cheers,
Michael