YZF Day: 4/26
Started by
grayracer513
,
Apr 25, 2008 12:06 PM
Posted April 25, 2008 - 12:06 PM
It's that time of year again tomorrow. 4/26, YZF Day. Celebrate it with your buddies and your best 2-wheeled friend.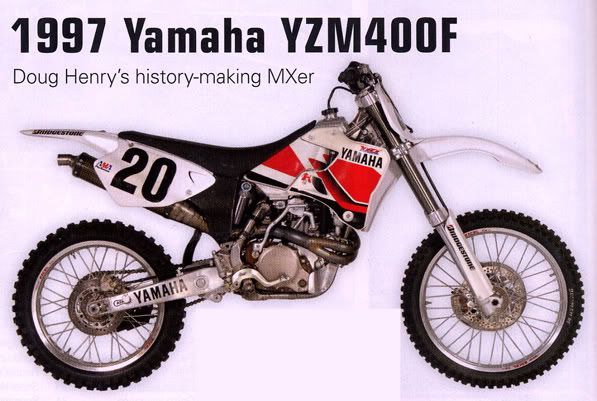 ---
---
---
Posted April 25, 2008 - 02:05 PM
Yeah, that's the one that started this whole thing. If you look closely, you can see there is not much resemblance to the production 400 engine that followed the next year.

---
Posted April 25, 2008 - 02:11 PM
there is not much of that bike that is anywhere close to my 99 yz400f.
the
exhaust
looks awesome.
the front fender looks pretty much the same..
---
Posted April 25, 2008 - 02:46 PM
Did they ever tell how much power that bike had? It was a one off works bike so it probably had the same power as today's factory bikes. I'm sure the
powerband
wasn't the same but peak HP and torque was most likely similar. Anyone know?
---
Posted April 25, 2008 - 03:17 PM
Power output in a race bike is always a compromise, and the power of the bikes in the larger classes is rarely the maximum the engine could potentially produce. It has to be balanced against rideability, durability, etc. Nascar and Can AM engines are not as powerful as Pro Stock engines, as a comparison.

---
Posted April 25, 2008 - 04:49 PM
If that's the same one Henry won the 'Vegas supercross on, I've seen it in person....Way cool. That was the first supercross I ever saw too.

---
Posted April 25, 2008 - 07:34 PM
and my dad and i will be tearing up jawbone on our yzf's on yzf day.
---
---
---
---
Posted April 27, 2008 - 07:57 AM
I think it had an Exup system on the
exhaust.
Guess they dropped that for the production models because of cost issues.
---
---
Related Content
Join Our Community!
Even if you don't want to post, registered members get access to tools that make finding & following the good stuff easier.