When I bought my used L about 3 months ago I didn't know much about motorcycles, since then I have learned a ton about my bike and I have slowly been going through it looking for problems. I have been putting quite a bit of money into it since the moment I bought it, and I have learned that these things are money pits LOL.
So far I have performed an oil change, put on new turn signals, new tail light, new tool bag, all new chain sliders and guides (chain was digging into swingarm). I have also purchased a 4 gallon
IMS
tank, new jets, smog block off kit, stuff for Dave's mods, and am getting ready to purchase a new muffler (I still can't decide between the
FMF
Q2 and the WB XCR).
Let's just say that my wife isn't too impressed with all of the
cool
stuff I'm getting for the bike, women just don't understand. I noticed when I bought the bike that my rear plastic disc rotor guard was broken so I looked at my options and realized that I didn't want to pay 50 bucks for a little aluminum guard, and I didn't want to put another cheesy plastic one on either. So I picked up some scrap 1/4" aluminum from work and made one for a friend and I. I also plan on making a rear rack for our bikes too in the near future.
Here's how they turned out: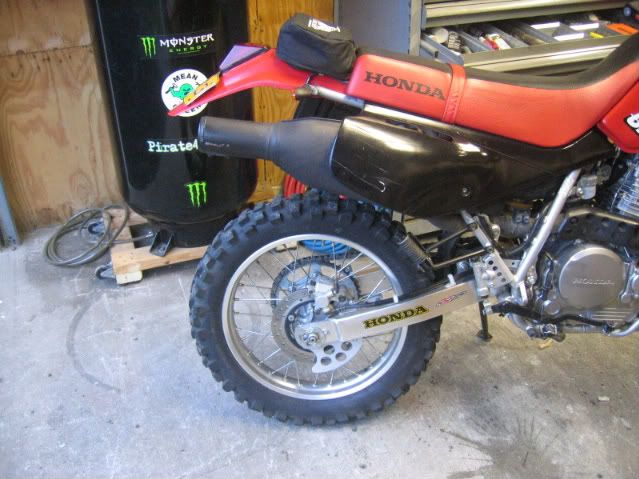 I figure that I just added 2 horse power to my bike with this.