It can be done, it turns out. You'll need a couple of specialized tools, but they don't need to be expensive. (edit:
Motion Pro
makes a $12 shorty screwdriver just for this that works OK:
http://www.thumperta...687#post5325687
) The first thing is a screwdriver with a bit wide enough at the point to get full contact with the jet, narrow enough to reach into the recess the pilot jet lives in, long enough to reach it, and short enough overall to fit between the carb and the engine. I went looking at a used tool store for something to modify into such a screwdriver, and I brought home a couple of likely suspects. When all was said and done, what I had was this: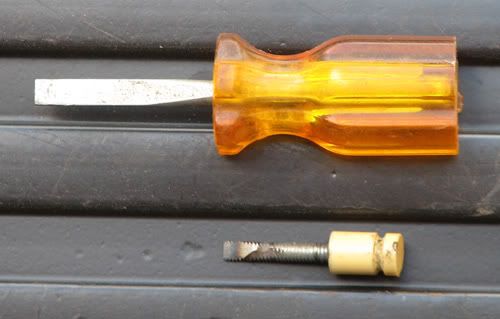 The normal diamond shape blade was shortened slightly to a length of 32mm, and I ground the sides away so that it was 5mm wide over the entire length. The handle was cut down to 35mm. This setup fits up into the pilot jet well and the handle can be turned with a pair of pliers if needed to crack the jet loose. It will just completely unscrew the pilot before it runs into the raised boss on the cases under the carb.
Getting the jet back in place is a challenge, normally. What would be truly
handy
would be a screwdriver with a pin in the center to hold the jet in place while you fished it into the 1/4" hole up inside the 3/4" hole in the bottom of the carb. Here's a cheap solution:
Yep, it's a paper clip, alright. Open it up into a T handle, and bend a little U into the straight part. The jet then sits on it so:
The bend in the wire fits the slot in the jet, and not only keeps it from sliding down the wire, it will let you thread it into the carb a couple of turns so it will stay there until you reach it with the screwdriver.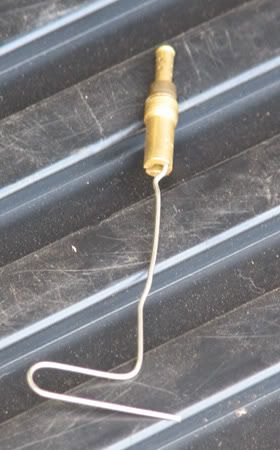 Believe me, this is well worth the effort compared to the whole ordeal of even rotating the carb on an '06 or later (which is by no means as simple as it sounds).