First post here, and awesome site by the way.....I just picked up my dream bike (2001 XR650L) the other day, and just can't get enough of it. It's way different from my old xt225, but I am extremely glad that I went with the
honda.
I physically outgrew the xt and have been looking for a larger displacement dualsport bike for some time now. I plan to ride about 80% on road, making the xr the ideal bike.
As I said before, this is pretty much my dream bike. Came with white bros. e-series pipe, performance piston and cams (apparently), k&N air filter, rejetted,
cycra
probends , pro taper bars, and a few other goodies..... I haven't really had a chance to ride it yet since I can't get it safetied for a few days, but my initial impression from just messing around on it: big, loud, and fast
The bike came with a larger "baja" tank, but I've put the stock one back on until I get it painted up. Here are the pics: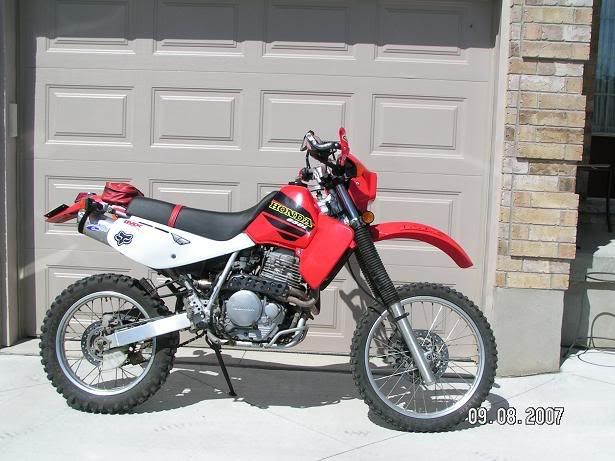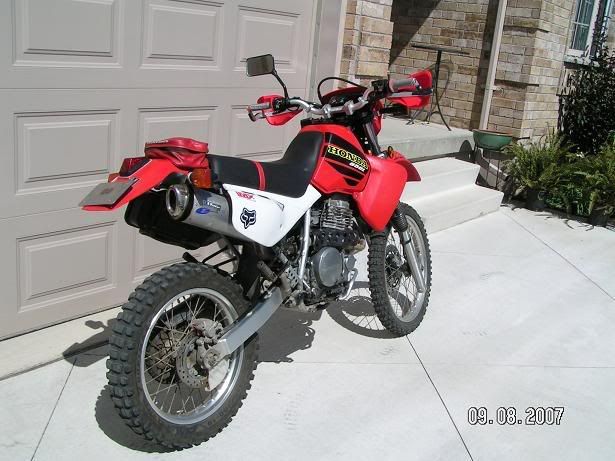 Not bad looking, eh? Anyone know of some cheap/fun mods that can be done? I'm pretty set performance mod wise, but am looking for some small projects to do to get familiar with the bike (I'm still a noob). I've heard of removing the smog box to help reduce the popping on deceleration. Where do I find this "smog box"? There's quite a bit of popping on deceleration, but the guy I bought it from said it was just because of the pipe
I've already thrown on some stickers
and did the energy drink over piggy back mod. It's main purpose was to distract from the scratched up bodywork but I think it actually looks pretty
cool.
... heres a pic: