All of our bikes come stock with a fork mounted headlight, but I am wondering if this is the best way to go. I started my love affair with the dark with a 100w halogen bulb with the
Honda
glass lens in the stock headlight shell, and have "graduated" to an 8" HID racelight (and HID
helmet
lights).
Now, I don't ride with the light all the time, but I have noticed a difference in the handling of the bike with and without the weight of the light up on the handlebars. It always felt a lot heavier on the bars with the light mounted to the fork tubes. Modern rally raid bikes have modest fairings with the lights mounted solidly to the bikes frame (think KTM Adventures) and even the old Honda NX650/Intimidator had the lights mounted to the frame.
With this train of thought in my head, I rough fabricated a solid frame mounting system for my racelight. I am hoping that this will lessen the weight feeling on the bars, giving me a little more upper body longevity in racing situations, plus it will be much faster to bolt on in the pits. I have another XR650R with a "conventionally" mounted 8" HID to ride this coming weekend so I can compare the mounting system pros and cons back to back.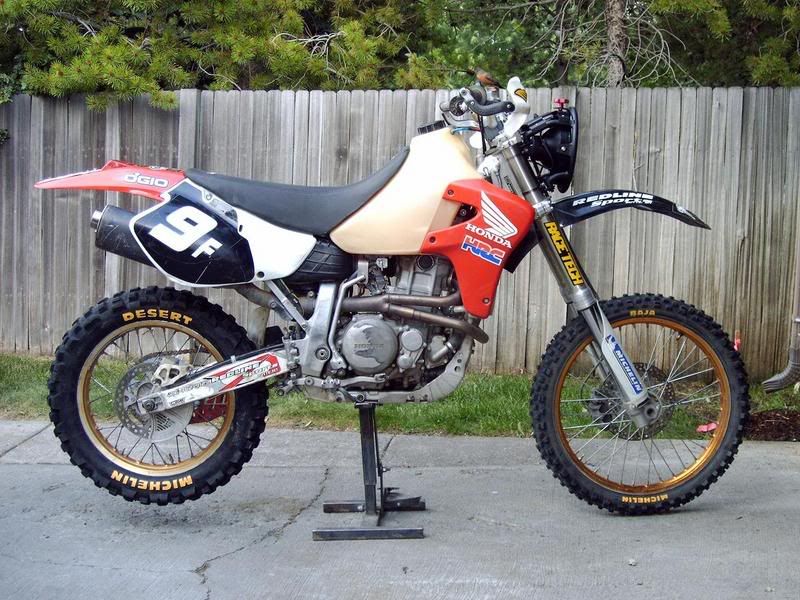 Old light mount (old pic of my bike, sorry!)
New light mount
I am just curious as to what the rest of you think may be the better way to go for the headlight mounting, and if anyone else has used a solid frame mount for their headlight. I don't mind experimenting with my setup, but if anyone else has attempted anything like this, it might be nice to save myself a few headaches down the road (if you know what I mean).
Thanks in advance for the input!