Well I finally went down and took delivery on my new 07 WR450. Coming off a 06 YZ450 I was a little leary that I would not be satisfied with the motor, but we'll get to that later. After getting it hom I wheeled her into the garage to tear it down and begin the transformation to a Desert race bike. First off I removed the stock pipe. The canister alone weighs in @ 10 lbs! The
DRD
system is just under 6 lbs. -4 lbs there. Next I installed the AIS kit, and JD jet kit. Then put the DRD pipe on. Grey wire mod. Tore down the steering head, greased all the bearings, then reassembled with a Scott's
stabilizer.
Cut off the stock grips and replaced. removed the kill button and moved the start button to the left side so I can mount the handguards. I will just use the power button to kill the bike. No dead battery that way too. Installed an hour meter on the frame. Installed the
IMS
tank, and YZ shrouds.
Stainless oil filter
, and billet dipstick. Now I kept my spare
wheel
set from the YZ and planned on using them, but the front hub is different for the speedo. DOH!! I'm looking for a WR front hub if anybody wants to trade for a YZ one or just sell. Until then I will just run the silver stockers. I Got it back together in time for a night cruise. I put about 10 miles on it and I have to say than any doubt I had about the motor is GONE. With the right jetting, pipe, and free mods this bike is now a very strong race bike. The power is electric like, and I love the tranny for the desert. The forks and shock go into
Noleen J6
tomorrow for the Off road/Desert re-valve and re-spring treatment. Then it will be ready for the Invaders desert scramble in Aug. My YZ was an incredible bike, and will be missed but I see great things to come with this new WR. NO REGRETS. Heres a few pics of her.
Yesterday: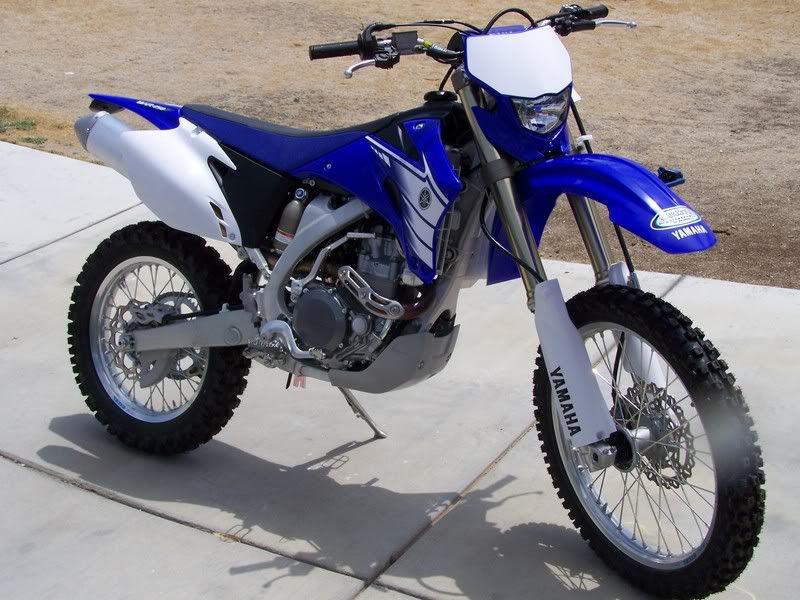 Today: