Hello all. First post. I live in central Cali and I just bought an 03 YZ450f. I love the bike. Anyway, I had to do the pro moto mod to the endcap to be USFS legal. I wish all the mods I have done went that easy. I read someone else's account from here about doing it so I was prepared for the job. Here's my steps in case anyone else plans on doing it.
1. Remove tailpipe. Takes a couple minutes.
2. Drill out rivets on old end cap. About 5 minutes or so.
3. Cut silicone sealant around endcap with razor blade. 1 minute.
4. Cut off portion of inner pipe that sticks out past outer cannister. 10 minutes or so. Sorry I didn't have my camera. This would have made a good how-to if I had. Maybe somone else already did the writeup with pics, though.
5. put bead of silicon around new endcap and slide it into pipe. May need a rubber mallet to help coax it a bit. A couple minutes.
6. Drill holes in new endcap using old rivet holes as guide for new ones. I did one at a time just as the instructions said and after the hole was drilled, I put in a rivet, tapped the endcap with the mallet and did the next one. Maybe 20 mintues give or take.
7. Stick the cone in, screw on the aftermarket endcap insert. In my case, I bought the silencer insert also so I had to screw it in first, then the new encap insert. I put lok-tite on the threads of the screws. A few more minutes.
I also clamped the pipe into a vise while doing the work which made it go easier.
8. Reinstall tailpipe onto bike. A few minutes.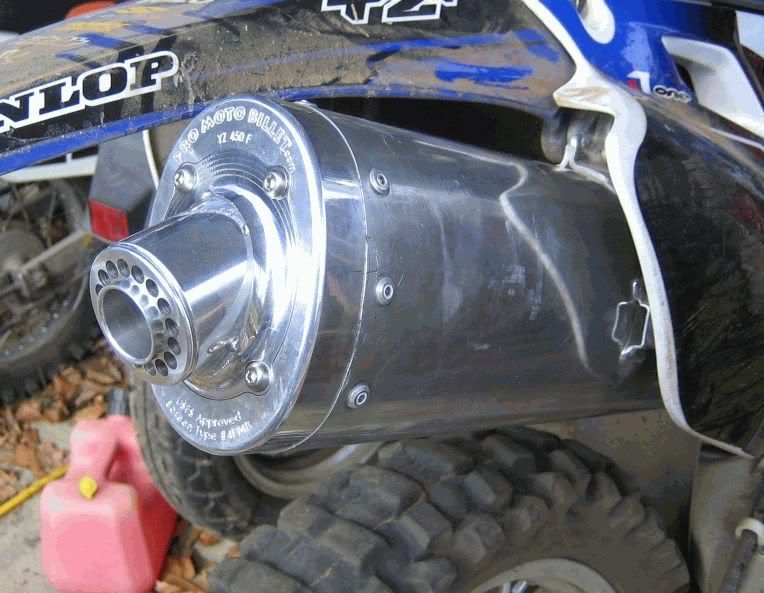 So looking back, maybe 45 minutes. Not bad considering I usually run into weird probs and end up with hours in a simple project, and it looks great. My wife said she could tell it was quieter right away. Now I can't wait to hit the trails! I'm in Atascadero so if any of you guys are near, give a yell and we'll head out to Pozo or wherever else to ride.
reg