Awhile back I came in the forum and mentioned how I won a raffle involving Wonderwarthog racing, Plok/SoCal racing/Phmx and
Decal Works
in which I donated money and won the grand prize.....Clark Stiles 06
Yamaha
YZ450F race weapon
Because of various snags and issues I am just receiving the bike. Actually I ended with Jake Marsacks bike because after he broke his hip in four places, which ended the outdoor season early for him, I was given his #337 motocross bike. Darrel Saldana team manager, and Jim & Jake Marsack were very apologetic and supportive all the way through the crazy process. Jim is Jake's dad and mechanic and he is a very nice and down to earth person. Jake is a pretty cool dude and I'm told he loves talking to the young kids. Both guys are very nice and down to earth. Look for Plok/SoCal Racing/Yamaha to be doing some awesome things this year for the privateers. I usually don't win anything but I also usually proceed light hearted and in this expected maybe a ballcap or something but I won three different prizes. I do a lot of community outreach work and gang intervention stuff so maybe someone's looking out for me.
The bike purrs like a kitten but when the throttle gets twisted it barks aggressively. The bike came set up for a tall rider. I readjusted the controls to my liking. The motor is modified and has a aftermarket ported head and full
Dr D
system. The suspension is butter, set up for outdoors and for a 180lb rider. The bike accelerates smooth but if you ask it to, it can strike like lightning. Some pics. My bored out yz420 still has a home because it is green stickered. Another good reason to give....maybe one day you might receive.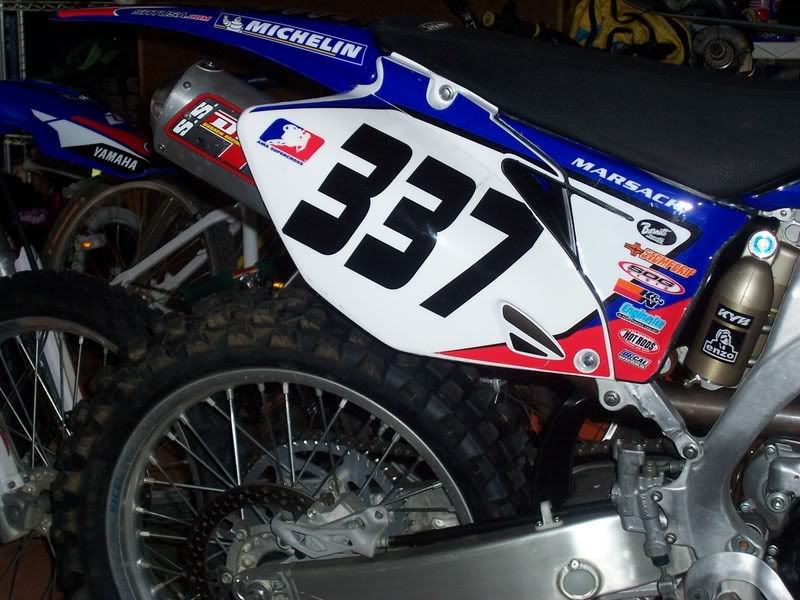 http://i21.photobuck...ie427/plok1.jpg