We all know it sounds and looks way better if you have brand new sneaks on but I am wondering if the bike needs them if it's better to sell it with giving the customer a few options like ............
1) Buy the bike and I will install tires of your choice (depending on the deal, he pays or you pay)
2) Buy a brand that suits a broad range of riding terrain and install before sale
3) Just simply sell the bike as is and hope it doesn't hurt the sale at all
Now I realize all these methods are used but just figured I'd see if one particular method out ways the others by a large percentage.
Mine are not really too bad yet but I chose #2 to do I think unless of course some opinions change my mind. I just think it makes the sale much more appealing when you sell a "jump on and ride" bike rather then the buyer must take it home and rip in to the mechanicals of it right away although there are quite a few moto weekends left on mine.
For # 2, what would be a good pair for east coast Pennsylvania intermeadiate tracks and should I go with real juice ones or bargin ones like Maxxis or Kenda?I'm not up to date on the newest intermeadiate tires so feel free to fill me in on the selection out there. Any free shipping deals out there at the momement?
For sale -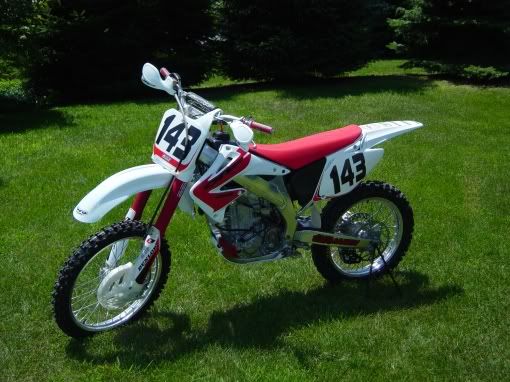 Thanks !!!!