I was looking for some stuff on e-bay, and came across this pic of a YZ426 with white plastic and red/white/black "OW" style graphics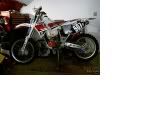 I really like the look, and was wondering if anyone knew where I could find these. I e-mailed the seller, he responded that they are Factroy Effex, but I sure can't find 'em in the FX cataloge, or in chaparral, rocky mountain, world of powersports, etc. I e-mailed FX,
One Industries
, and
N-Style
, but haven't heard anything back.
If you know where I can score some of these, please let me know!