What type of bulbs does everyone use? In my Accord I have tried Eurolite Super Plasma's, Farenheit bulbs, stock bulbs, and Eurolite Xenon Crystal. I like the color of the Crystals the best white when looking at them with some blue but reflect more blueish on stuff like the garage door and stuff like that. Not much brighter than stock but not much worse either. The lowbeams of the Super Plasma's kept burning out every 2 months or so but they were a bright white and were better than the stock bulbs and the high beams lasted me over 2 years but when one burnt out I replaced it with the same bulb and it had more yellow to it and seemed not quite as bright but not much differnce in brightness still whiter than stock though. I guess they changed them over the years. I don't know if I would reccomend them after my low beams burning out and these high beams I'm not crazy about well the new set anyway. The Farenheits were a bright white also showed a little yellow during the day but not much. They didn't reflect blue on stuff just white. You could definately see better than stock bulbs but these didn't really have any blue to them I wasn't crazy about the color of them but they wernt bad and vision wise were pretty good I don't know if a big enough differnce over stock to upgrade though but it definately was a differnce. Seems to be about as big of differnce as with the Silverstars. I ran these for several months and they were still working when I took them out and replaced them with Eurolite Xenon Crystals. All of the bulbs I ran were stock wattage bulbs.
In my truck I Run the stock bulbs and in it kind of like the yellowish look but I will admit they arnt the brightest but think that is because of it being so high as it is lifted I would say my foglights and low beams are decent but not as bright as just lowbeams on the Accord.
I just thought I would give my reviews of the bulbs I have tried and see what everyone else ran and thought of theirs. For some reason I like aftermarket bulbs I don't know why. I have read all the reports of things saying you loose visability with them and with a lot of the blue ones that seems to be true and may be true with the Xenon Crystals as they didn't seem as bright as the Farenheits but not far behind so I would say probably about like stock I don't think they are much worse. I didn't see a loss at all with the Farenheits and didn't with the Super Plasma's either.
Here are some pictures of the differnt bulbs I have tried although the Crystals and Farenheit picture the car seems to be at an angle as the Farenheits don't seemthat much brighter Only thing I can figure out was it was at an angle.
Here is a picture of the Farenheit on the left Eurolite Xenon Crystals on the right.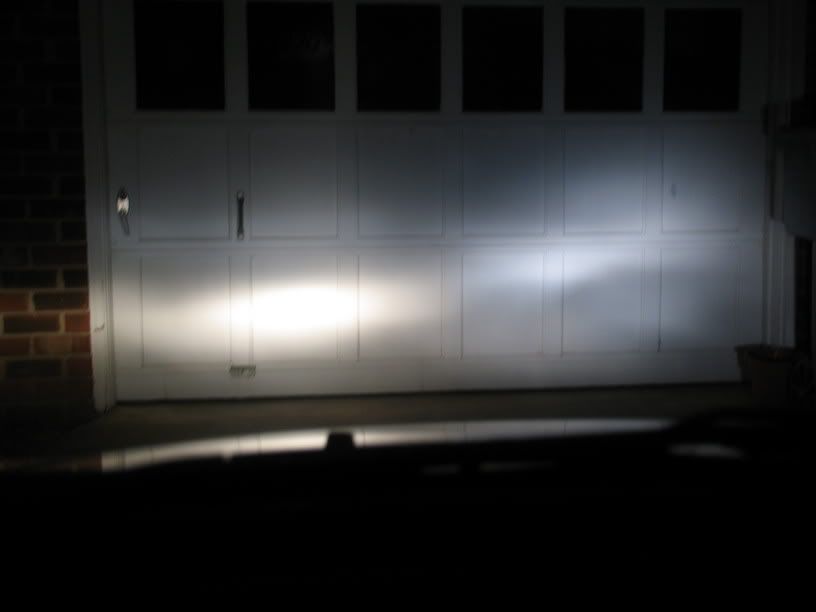 Here is a picture of the Stock and Farenheit bulbs it wasn't as good of a camera and you can't really tell a differnce in brightness but they are a little brighter and color wise you can see a tiny differnce.