Gas tank preferences
Started by
Chimpy
,
Oct 13, 2004 01:29 PM
Posted October 13, 2004 - 01:29 PM
I'm changing my stock tank to a larger (4-gal) capacity.
Any suggestions, Clarke vs.
IMS
?
---
---
---
Posted October 13, 2004 - 05:27 PM
Clark and
IMS
and
Acerbis
are all good. There is also Aqua from Australia--very
cool
--and very big, and a 10 gallon unit from Africa Queens, Germany....
Clarks are a bit narrower--good when standing up.
IMS
has 3 sizes so you have options--plus color choices--up to 7 gallons!
The
Acerbis
is also worth considering--their under the seat tank will accept the IMS or Clark...giving you up to 9 gallons with a slim design.
All are good. None is prone to major issues.
Expect to pay about $250 and up....
IMHO it comes down to what size you need.
3.6, 4, 4.6, 3.4/6, 7, 10 or 11 gallons....another thing to consider is running a
Edelbrock
carb. Set up properly you can get 10% or more additional milage...
so an 11 gallon Aqua with a lean
edelbrock
and mellow riding can give ya around 350 miles!
Not sure if the
Acerbis
3.6 under the seat tank can go with a 11 gallon Aqua tank....it would be over 100lbs in fuel!
---
Posted October 13, 2004 - 05:47 PM
What ever you get you should like....I like my Clark 4.3 (holds more then that but, like all of them it's not all usable....ya, I know you can lay the bike on it's side) Costs $169 @
http://www.clarkemfg.com/
and jws or mike gave me a number of a place in Arizona that selles them for $145.
But, the
IMS
4.6 is hard to get to the carburetor to adjust the idle.
---
Posted October 15, 2004 - 08:11 AM
Thanks much for your input on the tanks, I've decided on the Clarke 4.0. Looking foreward to using it next month in Baja. Good luck with your preperations for Dakar....Hold On!!
Kevin
---
Posted October 15, 2004 - 10:28 AM
I run the clarke as well.. Hey.. you can buy my whole bike... save you the insatall time.. lol.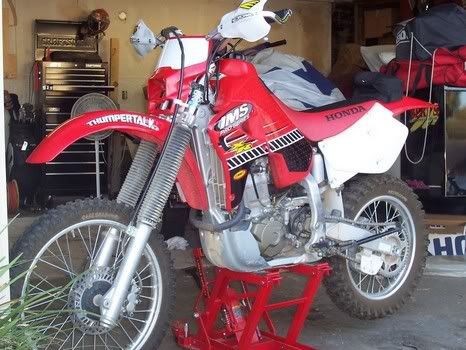 ---
Posted October 15, 2004 - 02:43 PM
I've used the 3.3
IMS
for racing and the 4.6 for Baja riding. Both work well, fit is great. The
IMS
7.1 Australia tank is slim and good when not riding with a chase truck close by as well. Does the cute woman help or hinder gas mileage?
---
Posted October 15, 2004 - 03:03 PM
Keeps my engine running
When I am near her the bike gets great gas milage! When I am riding and far from her it get real bad gas milage.....because it's wide open trying to get back!
---
Posted October 15, 2004 - 04:15 PM
After staring at the picture of your "bike" for three hours I noticed your fork
boots
are installed incorrectly. LOL
---
---
Related Content
Join Our Community!
Even if you don't want to post, registered members get access to tools that make finding & following the good stuff easier.