Pics of your 98-02 wr250f wr400f wr426
Started by
Dirtbiker24
,
Jun 02, 2015 02:36 PM
Posted June 02, 2015 - 02:36 PM
Hi all looking to see what everyone else has done with their wr250 400 426.
---
---
Posted June 06, 2015 - 06:21 AM
2000 WR400F - waiting on new plastic & graphics.
Edited by BlueBeast400, June 06, 2015 - 06:28 AM.
---
Posted June 07, 2015 - 06:31 AM
Here's what I've been doing with the 01 I just picked up for a song: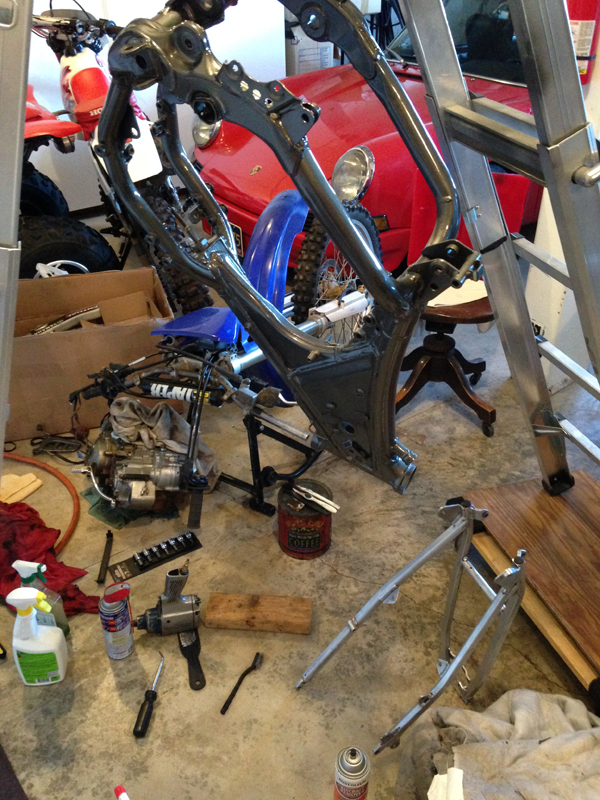 The poor beast was completely worn out. I decided I'm tired of the blue frame look, so I went with VHT engine enamel + 2 coats of clear- so far it looks like a factory paint job (color aside)- the cylinder is on it's way back from US Chrome with a new liner/Wossner piston, the trashed head is at Engine Dynamics getting a rebuild with all stainless valves, new OEM cam chain, I sourced a weightless yz426 aluminum subframe and an '03 swingarm (had to actually cut the old one out- along with the linkage)
I also discovered that CLR along with a fine wire brush does a KILLER job at cleaning grungy engine cases! (spray a tiny bit on, scrub it good, wipe it off with a cloth, spray the area down with water so the acids in the cleaner don't go too far, then dry it- amazing results!)
Hopefully mine will look (and run) nearly as good as the rest of these fine examples here soon! (and yes- the "go-cart" in the background got the same treatment a few years back- obviously I'm not the only one here with a hobby car- nice backdrop, BlueBeast!)
Curt
Edited by nilknarf, June 08, 2015 - 06:09 AM.
---
Posted June 07, 2015 - 07:30 AM
Thanks Curt! 1956 Lincoln "Lead Sled"...just another money pit, but at least retains its value unlike dirt bikes.

---
Posted June 07, 2015 - 10:24 AM
LOL! Nobody collects dirt bikes for investment purposes- they're just for fun! Now '56 Lincolns on the other hand...
My last Yamaha was a '91 WR500 "air hammer"- that was fun, but the gearing wan't well suited to riding with my kids. I'm anxious to see what these WR thingies can do! Thermos- is that the yz tank/seat combo on yours? Looks very sleek and comfortable... I'll post more pix of mine as it comes together, but I have to give the frame paint a few more days to cure.
Curt
Edited by nilknarf, June 07, 2015 - 10:24 AM.
---
Posted July 13, 2015 - 08:19 PM
Sorry guys- I know this isn't my thread, but I'm stoked to be able to report on some progress: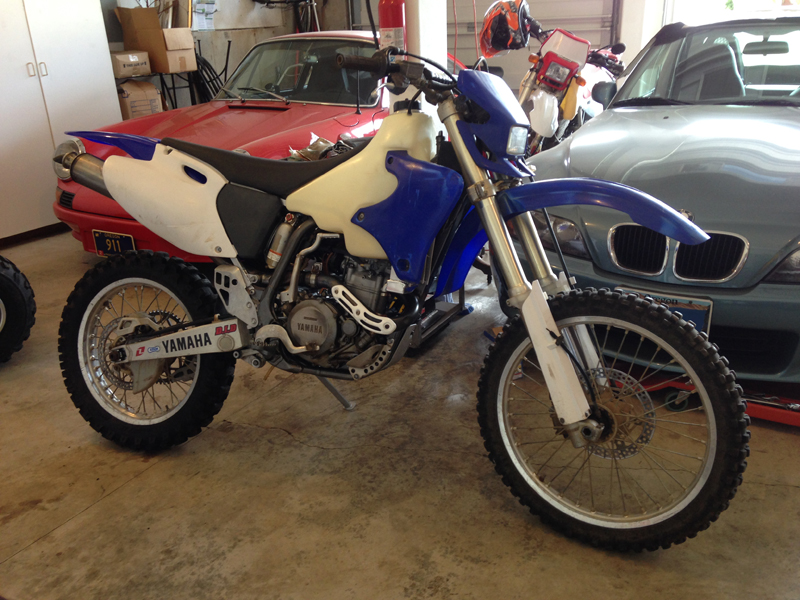 I've finally gotten most of it together- including a YZ seat/tank arrangement with the same fuel capacity as stock WR. I snagged a "new" airbox/air filter from ebay (tried to clean both this "new" air filter and my old air filter, and BOTH filters disintegrated before my very eyes in a bucket of lukewarm soapy water!) Brand new air filter element on it's way, new chain and sprocket set are on order- oil is in, radiators are full of fresh coolant- this baby is nearly ready for it's initial start-up. Next on the list is getting rid of the stub of the old odo cable. I found a sticker on the downtube of the frame that says this bike complies with all federal EPA emissions and noise standards... is it possible I may be able to plate this bike?
Curt
---
Posted July 14, 2015 - 01:28 AM
---
Posted July 14, 2015 - 05:59 AM
I miss my old WR400 :-(
But needed to make room for my 2012 WR450 :-)
---
---
Posted July 21, 2015 - 07:49 AM
---
---
Join Our Community!
Even if you don't want to post, registered members get access to tools that make finding & following the good stuff easier.