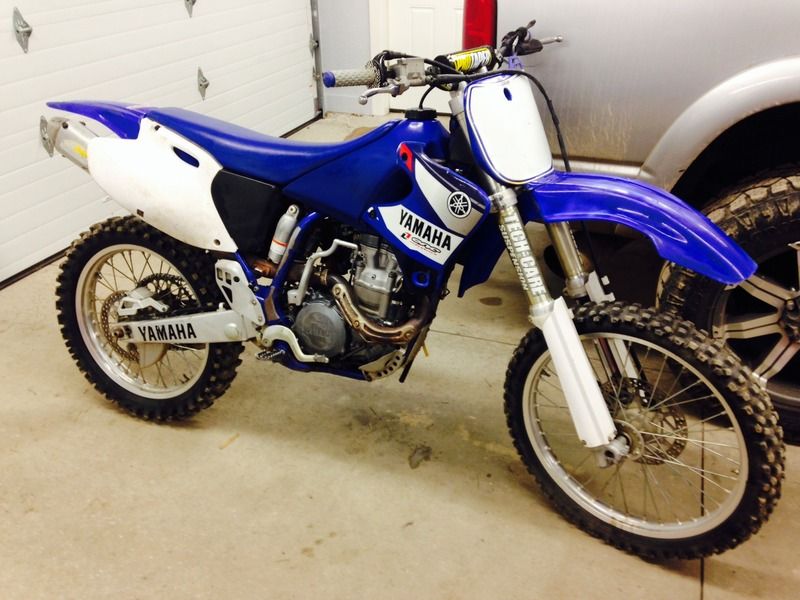 (obligatory bike picture included)
Yup, I've been searching, I found a lot of good links and info on here already.
A few days ago I picked up a 99 YZ400F, decent bike overall, runs strong.
I've been doing some maintenance on it, chain and sprockets, brake pads, new air filter.
The previous owner already had the front forks/seals done, oil change and a new spark plug.
The engine itself sounds really nice, no valve chatter or other odd noises.
It pops a lot and has a hard time idling... I pulled off the hot start connector tube to the intake manifold and had a friend plug it with his finger.
Seemed to help a ton with the idling problem, so I bought some vacuum port block off plugs and plugged it up for now.
Upon looking at the hot start hose that goes to the intake manifold it had 2 small rips in it which was most likely causing a it to run a bit lean.
1. Previous owner said he cleaned the carb but from what I've read on here its very common for the pilot jet to get plugged up and cause popping and idling problems. I was planning on maybe bumping up the pilot jet to a bigger size... What do you guys recommend? (I'm 500-1000 ft above sea level)
Also should I just leave the main jet stock or should that be bumped up a tad too?
2. Looking for input on a long lasting rear tire that hooks up. I plan on doing mostly trail riding, with a little bit of riding on the dirt roads to get to the trails.
A friend recommended a Michelin Starcross, and I've read a few things about the Dunlop MX52... not looking to spend a fortune on a tire but I know it's usually you get what you pay for.
3. I'm planning on adding lights to the bike. So far I have gathered I should be looking to purchase a Stator and Flywheel from a WR426.
That seems like the best bang for the buck right? Again I'm looking to do this on somewhat of a budget.
What else do I need besides for the Stator and Flywheel from a WR426? I have seen multiple threads on this subject but I have yet to find a list of everything that is needed to do this conversion. Any help or links to a list would be greatly appreciated.
4. Another thing is the bike is too loud, I don't want to get a ticket for loud exhaust so I think I'd just like to go back to the Stock yz400f silencer. Right now it has some kind of FMF silencer on it. The badge on it is worn away so I can't really tell what model it is, I'm guessing a Powercore but it has a USFS approved screen type spark arrestor end cap on it.
From what I have read so far is that a silencer from a 1998 yz400f will work, but I'm also reading that the silencer from the 2000-2003 yz426f will work also? It just bolts right up then? Just looking for confirmation on this before I buy one. If you have one for sale, let me know, thanks.