Here's a little info about me....
I will turn 30 this year, have been riding dirt bikes for 20+ years and street bikes for almost 10 (6 years actively), with roughly 25k miles under my belt in that time period. I became a licensed WERA rider at the beginning of 2012, purchased a full-time track bike in Feb. '12, and found out I was going to be a father in April of that year. I (sadly) decided to sell my bikes that I had at the time ('03 Kawi 636 track bike, 2004 Kawi 636 street bike, & 2009 CRF250R), to gear up for fatherhood.
Now that my daughter has turned two, I've made the decision that I'm getting another street bike, and want a supermoto. My initial thought was to purchase a DRZ400SM, but after some research I have found that most people complain about the lack of power, although they seem to be light on maintenance, as well as bullet-proof. It seems that the WR450F is a good compromise between lightweight/power and frequent maintenance, like some woods bikes can demand when converted to street duty.
On January 9th, I picked up a 2009 WR450F for a great deal. The bike is already wired with the
Tusk
lighting kit, and is plated/registered as an on-road vehicle in Ohio. It also came with an
FMF
Powercore
4 slip-on
exhaust.
All that's left for me to do is wire up a brake pressure switch (previous owner skipped that for some reason) and get the horn and e-start working again, before having the out of state inspection completed. Plans are to go with the Motostrano 'bare bones' SM kit, and a 15T front sprocket (puts me at 15/44).
Here are some pics (please excuse my mess of a basement....we just moved in Sept, and I'm currently building shelving for all of our junk):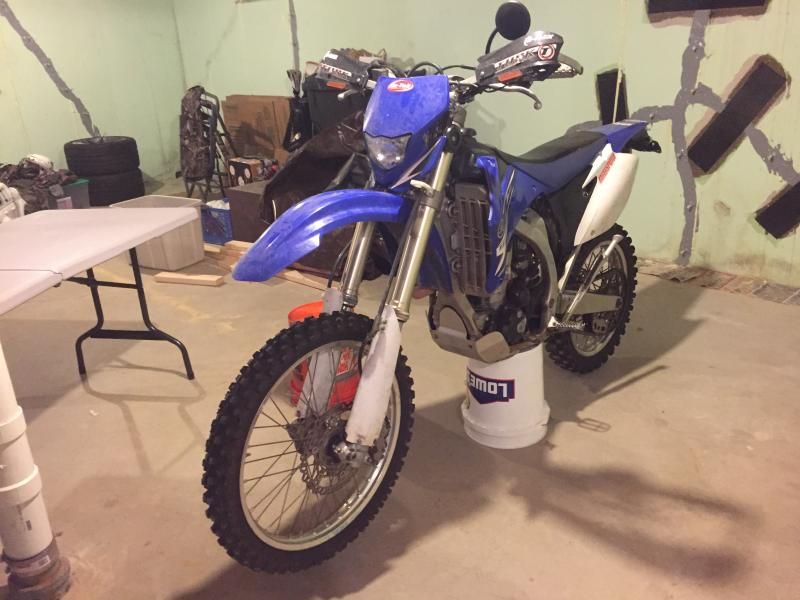 The teardown begins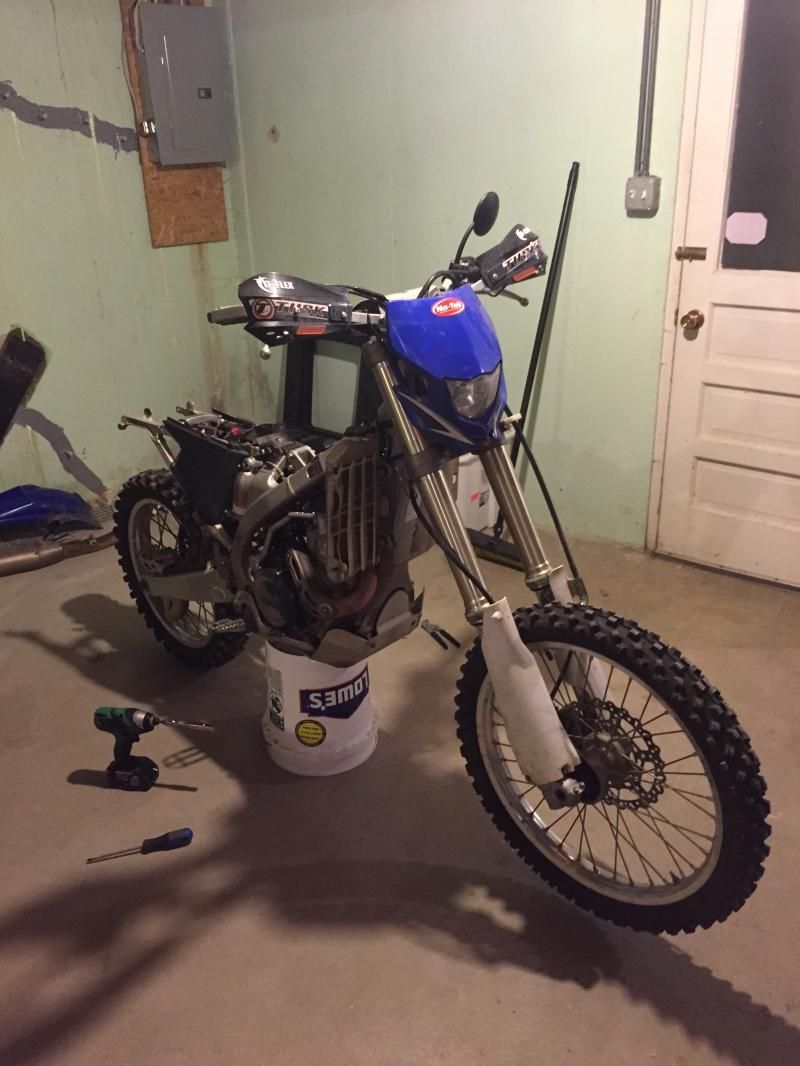 Overall the bike is in pretty good shape, and just needs a little TLC. Eventually I will swap the plastics to clean it up a bit, but the stockers will do for now. Upon inspection, I discovered that the bike has already been uncorked....the throttle plate in the carb opens up 100% and it appears there are a few external emissions items that I noticed were blocked off (I'm assuming the GYTR kit has been installed).
Edited by badmeat, January 14, 2015 - 07:26 AM.