If you like details read on, if not move on.
I've been riding my 2012 WR450 for two years now and I have always considered it a fun bike to ride. I've come to feel that if the net outcome of a ride is not on the side of fun, then &%$#@! (another variation of &%$#@!, figure it out) am I doing it? I got some of the ideas for the WR Funride at http://bestdualsport...00-exc-funride/
My initial changes to the WR are common to many riders who like the bike to work better for their riding style, and some comments about those changes where appropriate:
Competition ECU using FMF map. In June I rented "the" diagnostic tool (available on TT) and set my CO level at 8. Initially I did not think it helped with hard starting, however, after 6 weeks I'm starting to think it did help, as first hit cold starts are now common, hot starts are OK but not great.

Remove throttle stop screw and replace with short screw

FMF stainless steel megabomb header

FMF Q4 hex muffler – the sound level is low enough that I can civilly ride out of the neighborhood to rides that are nearby

Rekluse z-Start Pro auto-clutch – I had braking stall issues until my last clutch adjustment. Increasing the idle speed helped decrease stalling, but I would still experience stalls at very inconvenient times; the bike would also creep forward a bit at idle after it warmed up. The solution was to add stronger springs; by installing both 1.5" Wave Spring-C150-L4 and 2" Wave Spring-C200L5, the clutch now engages at slightly higher revs and brake stalling is totally eliminated. I retained the clutch lever so I can override the auto-clutch if I want to.

Rekluse LHRB – really useful for braking during right hand turns and for some downhill oddities

IMS 3 gallon fuel tank – some rides in Montana get a bit long, not much different than many western states

Nuetech Tubliss system – don't like to repair flats on rides when I can simply use a tubeless tire plug to fix the issue, protects rims better than standard tubes, and I can ride lower tire pressures without pinch flats or rim dings; all common knowledge about this product

Cycra probend handguards – pretty much bullet proof, added optional spacers to clear controls

Moose Racing skidplate – like this: http://www.mooseraci...Id=3759

Baja Designs dual sport kit – this is a high quality kit, but I would not go for it again because I am riding off-road 95+% of the time and I don't ride at night. I like the rear fender and license plate mount. The turn signals I really don't need, and they are not required for plating the bike in Montana. The rear turn signals had two problems: firstly the were too heavy and not sturdy enough for off-road riding, they broke off from all the normal rear end bike movements, and secondly the right hand signal was baked by the exhaust pipe. I replaced them with flush-mount LED lights, problem is the LEDs don't show up worth crap as turn signals from the rear – I just use old fashioned arm signals to turn on paved roads when traffic is around

Doubletake rear view mirror (left side only) – I really like this mirror because it is very tough and has enough adjustability to see past my arm when riding. It mounts with a RAM base and RAM arm (I got the long arm), and the base doubles as a mount for my GPS cradle. Very quick change from mirror to GPS when I arrive at off-road portion of ride. http://www.doubletakemirror.com If you don't want to remove it fold it down out of the way, great product
Funride mods
Yamalink lowering link - http://www.motorcycl...a-lowering-link – which lowers the rear of the bike 1.5 inches. Nice thing about the Yamalink is the grease zerks that allow lubing without disassembling the link.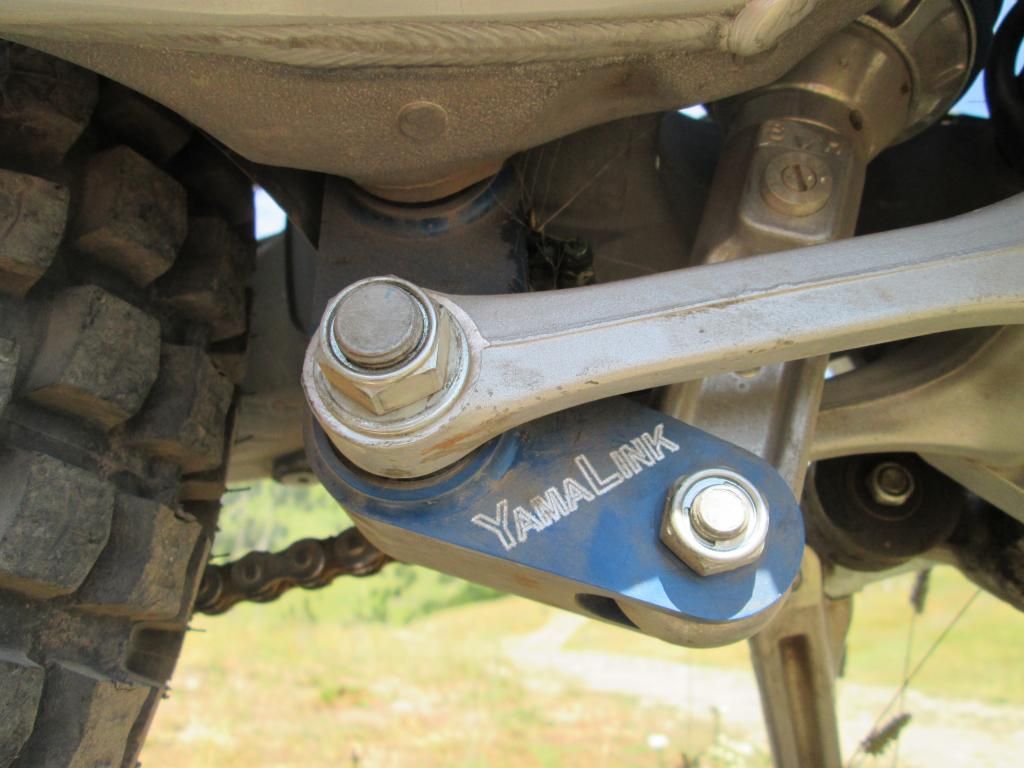 We checked rear free and rider sag and they were both unchanged from before installing the lowering link. Yamalink states that sag will most likely need to be re-set and spring may have to be changed to a heavier rate. I'm lighter than a normal specification rider, so the stock springs are good to go.
In order to retain stock rake and trail the front forks were raised 1 inch, and this required a 1 inch handlebar riser (see photo). A test ride ensued, as leaving the forks at stock height would lead to chopper-like slow steering and too much raise would make the bike unstable and twitchy, more so at speed. Between the lowering link and raised forks the WR still felt like it had stock steering response and stability.
Pirelli MT43 trials tires front and rear. A quote from best dual sport bikes said "They are DOT approved and run up to 100 mph. The rears have always worked fantastic for sticking in various dirt, so I wanted to try on the front as well. The sidewalls of trials tires are more flexible (pliable) than a standard dirt tire, so they help absorb little shocks better." I aired them to 15 psi each for my trial ride up a rocky and moderately steep trail known as Flathead Pass, located 20 miles north of Bozeman.
I checked the tires carefully when I got to the pass and found no damage from the rocks or occasional tire spin.
The whole setup worked fine for me The route to the off-road portion included 10 miles pavement and the trials tires were smooth and quiet. On the technical parts it was nice to have a lower seat height when the riding demanded a dab, and the suspension worked as well as stock on the rough rocky terrain. The tires worked fine on the rocks, a combination of loose baby heads and imbedded larger rocks, and regular dirt further up the trail. I'm happy with the changes and it makes for a fun ride. This guy from Australia has a philosophy about riding that pretty much matches mine... https://www.youtube....K2-ooSG5iCLmFzf
Dan
Edited by drdanbozeman, August 03, 2014 - 12:30 PM.