Mounting odometer like Trail Tech Vapor on YZ450?
Started by
crb357
,
May 01, 2014 02:16 PM
---
Posted May 09, 2014 - 05:10 PM
---
Posted May 10, 2014 - 06:05 AM
Thats pretty sweet. And cheaper than the hole shot. Let us know how the vapor fits.

---
Posted May 17, 2014 - 05:36 AM
Well the DRC pad I bought turned out to be a waste for me. It is a nice product for their own timer device, but for my purposes, it wasn't applicable. The pre cut pad was too small for the Vapor, so I ended up using a Utility Knife to trim out the center. I could have just done the same thing with a regular square bar pad. I made a few dumb mistakes and I plan to make another one which should look much cleaner. Here is my homemade Vapor bar pad mount set up.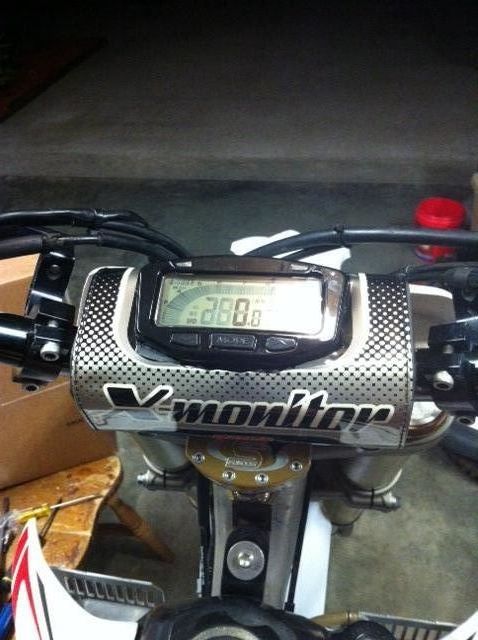 From the front of the bike
I used some plastic I cut from a plastic 5 gallon bucket lid for a plate to secure it to the pad.
Without the cover. I couldn't sink it flush bc the bottom of the pad was getting to thin.
---
Posted May 17, 2014 - 01:24 PM
Looks good. I like the piece of bucket for a plate. Good idea. I was thinking of something similar but using velcro on the back.

---
Posted May 17, 2014 - 02:03 PM
Thanks. Late night garage engineering at it's finest! Ha.

My initial plan was to use some 1/8 aluminum plate and mount that plate to the top of the bar clamps using some longer bolts for the bar clamps. Then mount the Vapor to that fixed plate with the two screws into the back, sunk into a hole cut in the center of a bar pad. However, I figured having it mounted real rigid like that would be an issue in a crash with damage. Using the plastic and mounting it to just the bar pad, allows it to give and move with the impact. It doesn't move while riding it and the numbers are big somit's easy to see while riding. Hopefully it would hold up better to impacts. I would rather replace the $18 pad than replace the $130 Vapor.

---
Posted May 19, 2014 - 06:08 AM
I did something similar on my raptor and I used a piece of aluminum behind it to make sure it wouldn't pull off the par pad cover. it worked ok but the actual mounts work the best.
---
Posted May 20, 2014 - 10:39 AM
Not a YZF - but here's what I do with mine. Also have a light bar and fuel programmer, so space is limited.
I like the Vapor behind the bar pad so that it takes less abuse.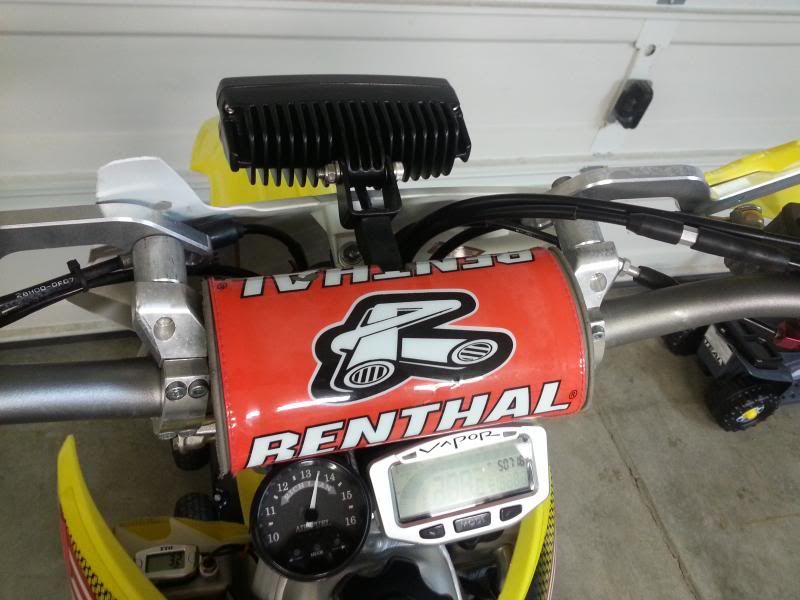 ---
Posted June 01, 2014 - 08:39 PM
Well it passed a very serious impact test with flying colors. I didn't though. Throttle stuck and I hit a few trees at speed. I broke my Tib, Fib, both of which dislocated from my knee. I also tore every tendon in my knee that could possibly be torn. I also tore my rotator cuff to top it off. I already had the 1st surgery last Wed, the 2nd will be in July. My buddy said the odo had 25.5 miles on it. So my set up works. Ha! I hope to ride again next spring.

---
Posted June 02, 2014 - 02:56 AM
So sorry to hear that! Hope you have a speedy recovery.

---
Posted June 02, 2014 - 09:20 AM
Wow sorry to hear that and good luck with everything. I broke my leg a few years ago but I didn't have any of the other issues you had.
---
Posted June 02, 2014 - 10:11 AM
Thanks fellas. Pretty bummed about only getting 25 miles on my new bike that I spent a ton of time and money prepping. The bike was kick ass by the way. Handled like a dream. I accidentally cut the throttle tube too short during the build and my glove got pinched bt the tube and
handguard
which kept it pinned open. Nobody to blame but myself, which of course is hard to take. My wife is pretty pissed so I'm going to lay low for a while with the bikes. Any questions about my set up feel free to contact me.
Enjoy your riding!
---
Posted June 02, 2014 - 11:18 AM
Oh in that case you'll need more luck with dealing with the wife than the injury. My wife would kill me if I got hurt on the bike and she doesn't like it to begin with.
I've never had the throttle stick on me but I've had my old 125 rev out of control since the spark plug loosen up and let in too much air. I crashed twice that day and had dirt rash on my arms and on my one thigh. It was scary but now I have a bunch more experience so hopefully those things are at a minimum. Now the scary thing is the rocks and trees on the single tracks we're riding.
So far so good my bracket has held up but the way you did it would good too.
Edited by 700rScott, June 02, 2014 - 11:21 AM.
---
---
Related Content
Join Our Community!
Even if you don't want to post, registered members get access to tools that make finding & following the good stuff easier.