water pump 04 wr450
Started by
twobigredneck
,
Mar 03, 2014 08:54 AM
Posted March 03, 2014 - 08:54 AM
replaced a water pump in my 06 wr450 and is leaking out the bypass hole
---
---
Posted March 03, 2014 - 12:03 PM
i thought so that's why i got new ones and a bearing so this wouldn't happen..
---
Posted March 03, 2014 - 02:14 PM
You may have an impeller shaft that has a significant groove worn in it from the previous coolant seal. This causes the lip of the new seal to get "stuck in a rut", so to speak, and be unable to seal well.
Another possibility is that you installed the seals backward (see the picture below)
A third possibility is that your balancer shaft bearing on the water pump side is shot: http://www.thumperta...ter-pump-seals/
If this is the case, the bearing cannot be replaced with removing the engine and splitting the cases, because on the older models (pre-'07), the retainers were on the interior side.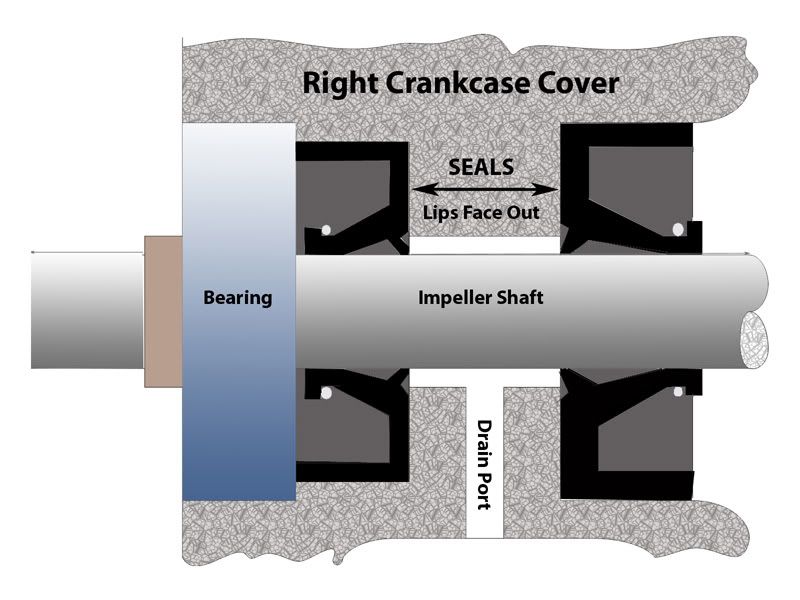 ---
Posted March 03, 2014 - 06:30 PM
I just did this fix. I used a
water pump
rebuild kit and replaced bearing and both seals. If you follow this thread they realize the book is off and can cause confusion.
http://www.thumperta...ater-pump-leak/
Double check your seals as mentioned. After I put it together I was still nervous I didn't get it right, but no more leaks. So I'm good. If I did it again I would take pictures of both seals, just for reference and your not second guessing yourself.
---
---
Join Our Community!
Even if you don't want to post, registered members get access to tools that make finding & following the good stuff easier.