So the manual is wrong? Every cylinder head I have seen weap solvent has showed a leak during vacuum and pressure testing the valves and seats. That's unacceptable for racing. We tear down our Yz450's at 3 percent leakage with our Total Seal Gapless Rings. That 3 percent can be the difference btw a podium and a last chance qualifier.
This is from experience working over 40 years for the number 1 race engine shop in the US. Not 40 years in a garage or dealership doing a engine a week.

Yes, the manual is wrong if you read it that way, and I'm not going to get into a @#&% measuring contest with you over whether one of us has more experience than the the other building race engines because I'm frankly OK with all of the racing engines I've built over the years, and it doesn't make any difference anyway. The OP isn't building a race engine, and he probably won't be using a $100 set of rings to do it.

If you think it's beneficial to tell a recreational user that any seepage at all is intolerable and requires him to spend $700 rebuilding his head, fine. I disagree based only on practical realities.

Gray, I am not opposed to a shop doing the test, however I am relatively new to north county San Diego and not sure who would be good to go too. Is a local Yamaha dealer capable of this or would this need to go to a race engine shop.

Also part of me wants to learn how to do the work: 1. because I like to do all of my own work and 2. I am tired of not knowing how to work on a 4 stroke!! They arent going away and I am not going to stop riding. Its a damn shame that bikes have literally become disposable, most friends sell it and get a new one before tackling a job like this.
If you want to go the shop route, I'd give the service dept. at North County Yamaha a call. The advantage to this route is that they will be able to tell you more about the comparative condition of your engine than you would know yourself because they will have used the leak down tester they have on several similar engines. Doing it yourself with your own equipment is rewarding in the long run, but the problem in this particular case is that no two leak testers are made the same, and almost any two different brands will show different numbers on the same engine. It's accurate to say that if any tester were to show an 80% seal and you hear a hissing in the carb that you have a problem, but it's much less clear whether a reading of 97% means that the only thing leaking is the ring ends.
The complete solution is to buy your own AND have a shop do one. You can then use their results to baseline your tester.
Regarding solvent testing used heads. Say you have one that weeps a bit too much at one or more valves. If you set the head gasket side down on a bench and try tapping the stems lightly with a punch, just hard enough to make the valve bounce open and shut once or twice, you may find this improves the seal. This can still mean that the valve face is worn, but at the same time, it can indicate that carbon encroaching on the stem at the end of the valve guide is causing it not to close properly, or that a similar condition is taking place near the valve face on the back of the valve head. In this case, careful cleaning can get you a few more tens of hours of service.
Remember that if they do seep a little, and you want to correct the problem, titanium valves cannot be lapped (even though the good ol' manual says different) under any circumstances. This is because the only thing that keeps a Ti valve from sinking into the head in 20 hours is the hard coat on the valve face. The nature of the coating required here is that it must be applied in an extremely thin layer, normally significantly less than .001" thick. Lapping can compromise the coating enough to severely reduce the service life of the valve.
Inspecting valves is a somewhat more reliable means of deciding whether they should be replaced or not. Looking at the two in the picture here, the one in the foreground has some life left in it, but the one in the back shows wear (actually quite a bit, too). When the wear first progresses to the point at which it's critical, it's characterized by a uniform, or nearly so, bright band around the entire face of the valve, without any of the dark spots the front valve shows, and any sort of detectable edge. By edge, I mean the step you can see where the band of wear meets the darker, untouched metal on the valve face. Even absent the step, the bright, uniform band means there's very little time left on the valve before the hard coat wears through.
Like a lot of things, it's not always possible to look at something used and say, "it will last this much longer", and the only truly safe route to take if there's a question is to replace them. Bear in mind that the seats also wear, and that wear is much more difficult to inspect visually.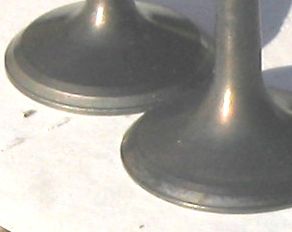 been told by a local bike fella the wiseco pistons are forged and are a much harder and longer wearing piston as you say , problem is he says because they are harder they tend to wear the bore/cylinder more,
where as the stock pistons being softer piston wears ,hence bore/cylinder lasts much longer
As far as the forged wiseco pistons. All aftermarket pistons for the yz450 are forged.
Be it known to all that OEM, stone stock, everyday YZF (all sizes) pistons are forged by ART in Japan, and they are as reliable as anything you can use. If going to a higher compression piston, I don't use Wisecos because they are too noisy, and that to me means an incorrectly shaped skirt that is not going to be conducive to good longevity. My preference is CP or JE pistons. Another consideration is whether the piston has one or two compression rings. This is a choice between the ultimate in performance (one ring) or better longevity (two rings). Unless you are racing the bike in a discipline in which one horsepower will either win or loose the race for you (flat track, road racing, maybe SM, but not MX, enduro or desert), using single ring pistons is a waste of money.