Greetings,
I got a used 2004 WR450f that had all the uncorked mods with a GYTR
Exhaust
tip, had been rejetted.
The bike idles in neutral sounds like it is constantly got Hot Start on. But I checked that and when I adjust the screw thingy out it idles even higher. So it's not the hot start being on..
My next thing was the idle screw.. but wasn't sure how to adjust. I took a pic below. The black knob (circle A) won't turn at all, and when I turn that screw (circle B..) it doesn't seem to change the idling at all.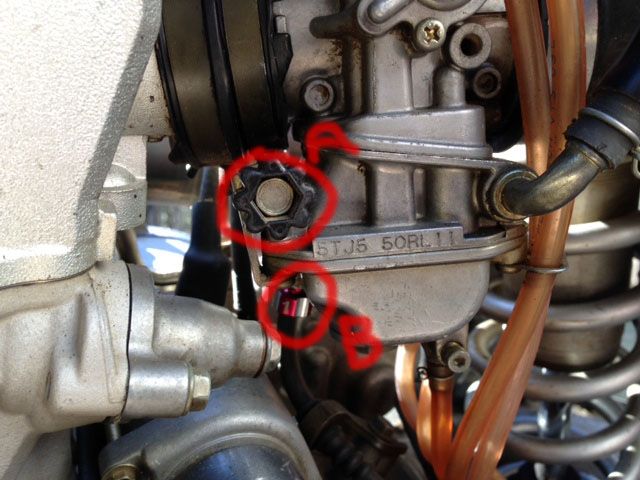 The screw on circle B has 1-4 or 5 printed on it.. and when I look at it currently sits between 1 and 2...
Did the previous owner just rejet it to be like that? Is that normal? I'd like to not have to rejet as the bike runs fine other then it idling seemingly high ... When I pull clutch in , the idle feels alot lower and much lower sounding.
Here's a video of bike idling (no hot start- 'normal' idle)
https://www.youtube....h?v=WVbf8J1tKvc
Any help would be much appreciated.
Edited by whatsitmatter, April 21, 2013 - 02:07 PM.